Economic news was generally good, but stocks were very weak.
Two distinct viewpoints guide traders and/or investors.
The week ahead marks the return of many from vacation -- a time to re-evaluate.
Both trading and investing opportunities abound.
It will be a quiet week for data, shortened in the US but with data from China.
Sometimes the calendar dictates the agenda. The Labor Day weekend marks the official end of a summer that was eventful for markets. The punditry will be asking:
What is your (revised) EOY target for stocks?
Prior Theme Recap
In my last WTWA I predicted that everyone would be focused on the lessons from the prior market turmoil. That was mostly wrong, since there was too much new turmoil! As he does each week, Doug Short's recap explains this dramatic story and his great weekly snapshot lets you see it at a glance. With the ever-increasing effects from foreign markets, you should also add Doug's World Markets Weekend Update to your reading list.
The chart shows the changing "lesson" that we might draw, starting with sharp selling on Tuesday (CNBC Markets in Turmoil back on the air), a comforting rally on Thursday morning, and the decline through the end of the week. It was an ever-changing lesson.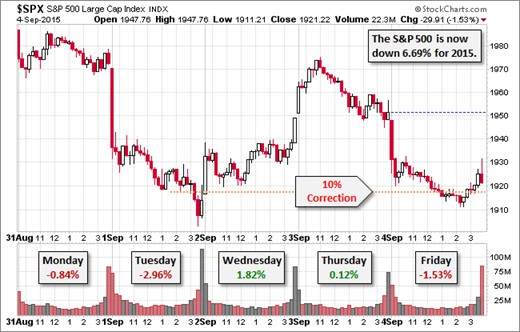 While the correspondence is not perfect, the optimists include many of the chief global strategists from major firms, professional economists, and investment managers who take a value perspective. The pessimists include most of the trading community, bond managers, "independent" economic thinkers, and conspiracy buffs. If you are inclined to disagree, I invite you to make your own list and share results in the comments. You might start by reading this week's cover story in Barron's,
More