Whenever we see a strong bullish continuation signal fail to follow through with the actual bullish scenario, we need to consider the bearish outlook. A failed bullish signal is as good as a bearish breakout signal. 
Last week, GBP/JPY pushed above the 200-, 100-, and 50-day simple moving averages and a falling trendline. It looked poised to rally toward the 175.36 high on the year. However, price retreated below and fell sharply over the next few sessions, including the start of this week when price broke below the 200-day SMA.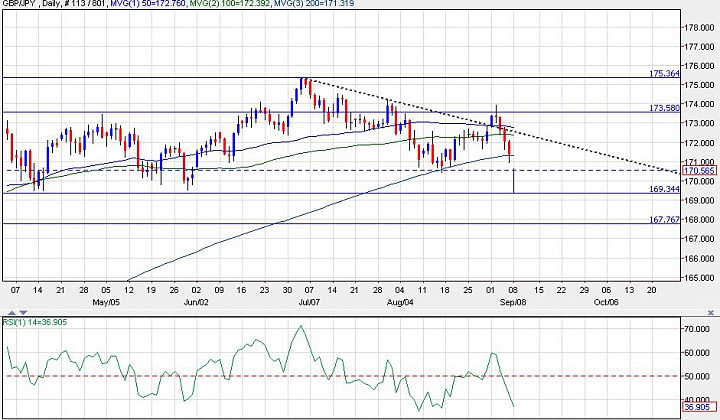 (GBP/JPY Daily Chart 9/8)

From the daily chart we can see that price started with a gap down and price then fell to 169.34. This broke the 200-day SMA, and  cracked the lows in May and April, putting the bearish outlook toward 167.76. 

However, we are seeing some buying as the April-May lows are acting as support. The GBP/JPY has climbed back above 170.50 during the 9/8 US session. When we look at the 4H chart, we see that the RSI is resolving an oversold condition, and price gave a bullish reversal candlestick combination. We can expect a rally to fill the gap, but we should be wary of sellers at 171.00, where there is also a falling trendline. The next level we can expect sellers at would be the 171.60 support/resistance pivot, especially if the 4H RSI is around 60 at that point. 

At this point, a break above 172.50 will be needed to put away the bearish outlook, and put GBP/JPY back into a neutral-bullish mode.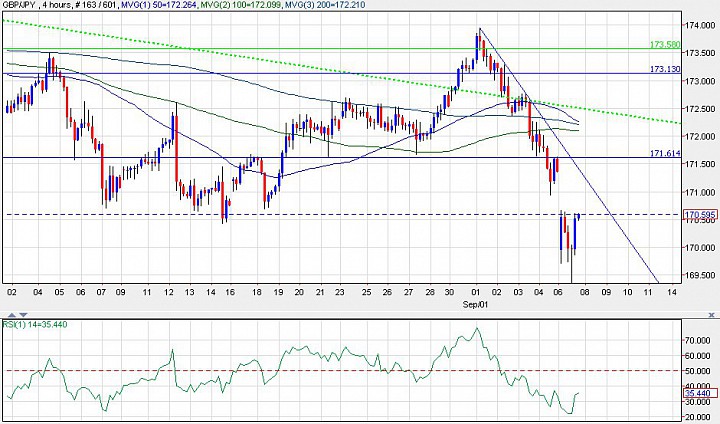 (GBP/JPY 4H Chart 9/8)