I recently suggested monitoring the 386-394 area for support as the share price of Chipotle Mexican Grill (CMG) slid. However after stalling in this range for a few sessions, CMG slid sharply below this area during the 7/18 session. This drop came after the announcement of a restaurant close down in Sterling, VA due to a norovirus scare.

The Washington Post reported that there were "reports from customers who said they got sick after eating at the restaurant, sending the chain's stock plummeting 6 percent. The reports — which were collected on the crowdsourced early-warning site "I Was Poisoned"" — describe severe vomiting, diarrhea and stomach pains contracted in the hours after eating at the Chipotle Mexican Grill at 21031 Tripleseven Rd.
CMG Daily Chart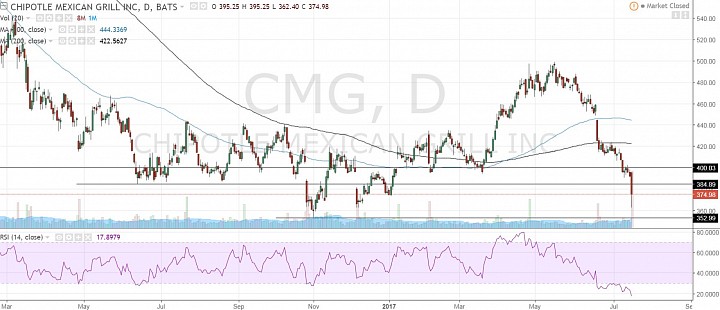 (click to enlarge)

Back to 2016 Lows:
- The daily chart shows that price was bearish heading into 2016, and continued to slide until it bounced up from around 353.
- In fact, price action began to turn bullish in 2017, almost reaching 500 before a bearish correction.
- Now, that bearish correction turned out to be a possible bearish continuation swing.
- This means, even the 350-353 area will be vulnerable - CMG might slide further.
- I think bearish continuation is a strong possibility, especially after the failed bullish reversal attempt.
DCB?
- Even though I think CMG will head below the 2016-low, I wouldn't be surprised by a dead-cat-bounce, off as price approaches this critical support area.
- However, I would limit the upside to around 400, and look for downside towards 300.

Mark Holder from Stone Fox Capital Advisors suggests, "while an isolated norovirus issue shouldn't hurt a stock with 2,300 locations, Chipotle was far too expensive. The stock might bounce here, but the best way to make money and reduce the risk of another health scare is to wait for $300 or lower. "