Advanced Micro Devices, Inc. AMD just released its third-quarter 2017 financial results, posting earnings of $0.10 per share and revenues of $1.64 billion. Currently, AMD is a Zacks Rank #3 (Hold) and is down over 6% to $13.31 per share in after-hours trading shortly after its earnings report was released.
AMD:
Beat earnings estimates. The company posted earnings of $0.10 per share, beating the Zacks Consensus Estimate of $0.08 per share.
Beat revenue estimates. The company saw revenue figures of $1.64 billion, topping our consensus estimate of $1.51 billion.
The Sunnyvale, Calif. chipmaker's quarterly revenues were up over 25% from the year-ago period. AMD's non-GAAP earnings jumped from $0.03 per share to $0.10 per share, while it posted operating income of $126 million and net income of $71 million.
AMD's Computing and Graphics segment revenues soared 74% to $819 million, driven in large part by great Radeon and Ryzen sales.
However, the company expects its fourth-quarter revenues will fall roughly 15% sequentially, tough that quarter-over-quarter decline would mark a nearly 26% year-over-year jump. On top of that, full-year sales are expected to increase by more than 20%, which is above AMD's previous mid-to-high teens guidance.
"Strong customer adoption of our new high-performance products drove significant revenue growth and improved financial results from a year ago," Dr. Lisa Su, AMD president and CEO said in a statement.
"Our third quarter new product introductions and financial execution mark another important milestone as we establish AMD as a premier growth company in the technology industry."
Here's a graph that looks at AMD's Price, Consensus and EPS Surprise history:
Advanced Micro Devices, Inc. Price, Consensus and EPS Surprise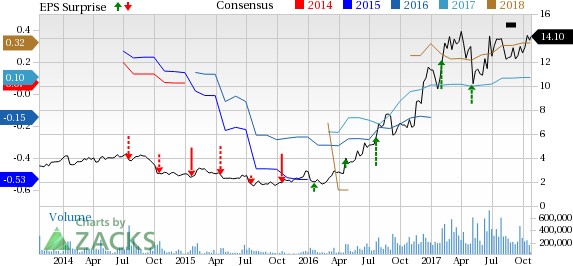 Advanced Micro Devices, Inc. Price, Consensus and EPS Surprise | Advanced Micro Devices, Inc. Quote
Check back later for our full analysis on AMD's earnings report!
Today's Stocks from Zacks' Hottest Strategies

It's hard to believe, even for us at Zacks. But while the market gained +18.8% from 2016 - Q1 2017, our top stock-picking screens have returned +157.0%, +128.0%, +97.8%, +94.7%, and +90.2% respectively.

And this outperformance has not just been a recent phenomenon. Over the years it has been remarkably consistent. From 2000 - Q1 2017, the composite yearly average gain for these strategies has beaten the market more than 11X over. Maybe even more remarkable is the fact that we're willing to share their latest stocks with you without cost or obligation. See Them Free>>
Want the latest recommendations from Zacks Investment Research? Today, you can download 7 Best Stocks for the Next 30 Days.
Click to get this free report
Advanced Micro Devices, Inc. (AMD): Free Stock Analysis Report
To read this article on Zacks.com click here.
Zacks Investment Research