Snapchat parent Snap Inc (NYSE:SNAP) will report its Q3 earnings tomorrow. Will SNAP stock see a post-earnings pop similar to Twitter stock?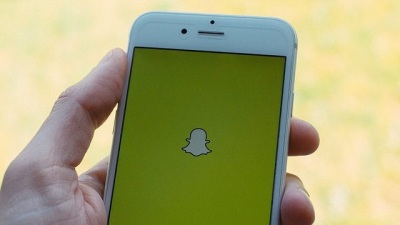 Shares of Evan Spiegel led parent company of popular social media app Snapchat, Snap Inc (NYSE:SNAP) are still trading below their IPO price of $17. However, SNAP stock has done well to bounce back from its all-time lows after the Q2 post-earnings sell off to gain more than 29% since then. Now, with shares of Jack Dorsey led Twitter (NYSE:TWTR) doing well after its latest earnings, investors have high expectations from Snap Inc earnings to set Snap stock to deliver a similar performance. At the same time, SNAP stock could be a risky bet as a lackluster earnings report could see a major sell-off as in the second quarter banishing the stock to all-time lows. All this brings us to the question: Is SNAP stock a good buy ahead of earnings? Can Q3 earnings help Snapchat stock break above its IPO price? Let's take a closer look.
Snap Inc Q3 Earnings Analyst Estimates.
Snap Inc will report its third set of results as a public company this year. And things haven't gone very well for the company. Snap has missed analyst estimates on nearly every count, be it revenue, losses or user growth in the previous two earnings. Analysts also seem to have tempered their expectations throughout the quarter. Wall Street expects the company to report a revenue of just over $239.45 million. That compares with the $128.2 million revenue, Snap reported in the same quarter last year, translating to a YoY growth of 86.77%. Yet, the number falls short of the triple-digit revenue growth registered during the previous two quarters. On the earnings front, analysts expect Snap to report a loss of 15 cents a share, much higher than a loss of 13 cents per share in the same quarter last year. The EPS trend over the quarter also has not been encouraging.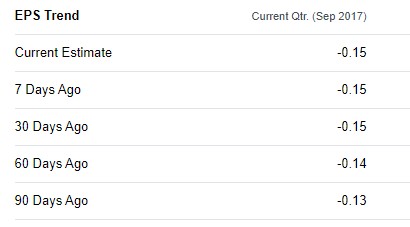 Of course, there is little doubt to say that Snap will need to outdo these expectations on both fronts to protect investors' wealth which it has failed to do on both the two previous earnings releases. However, even that may not be enough. When Snap finally reports its third-quarter numbers, the one number that analysts and investors will be watching very closely will be Snap's user growth. With Facebook (NASDAQ:FB) Mark Zuckerberg recently announcing that Instagram Stories and Whatsapp Status both which are Snapchat clones having more than 300 million daily active users (DAUs), almost 2x the size of entire Snapchat apps DAUs which was at 173 million as of Q2, there would be a special focus on user growth.
Though there were some major positives for Snapchat in this quarter, as a Piper Jaffer bi-annual survey suggesting a majority of teens still prefer Snapchat over other platforms. However, that should also translate to earnings as Snapchat is yet to up its advertising revenue game. The company is trying to up the ante in that direction with acquisitions as Techcrunch reports that company has acquired Metamarkets recently, an ad tech startup that provides programmatic ad data-related services to marketers. Still, a lot needs to be done here as a recent eMarketer forecast suggested Snapchat ad revenue growth to be slower than expected. The lack of catalysts on this front could keep the stock under pressure.
Other Major things to watch out.
Investors should also keep a watch metrics related to Snap spectacles which the Venice, California based-company was a major contributor of other revenues which were $5.4 million in Q2. A recent report suggests that Snapchat Spectacles are a big failure with only 0.08% of Snapchat's users buying its camera sunglass. Moreover, it is reported that "Massive piles of assembled and unassembled video-recording sunglasses sit unsold, contributing to Snap's enormous costs and losses, says The Information. Internal Snap data shows less than 50 percent of buyers kept using Spectacles a month after purchase." Hardware was also talked up as part of the bull story about Snap, since it is one source of revenue that's not dependant on Snapchat's user base, and offers hope in the long term. With Snap claiming to be a camera company, the failure of Spectacles could weigh heavy on the stock's fortunes.
Avoid Snapchat's Snap Inc stock for now.
For now, investors might want to avoid Snap stock given the lack of major catalysts and clear vision from the top management to grow revenues amid increasing competition from Facebook. SNAP stock is already trading above the average analyst price target of $14.78. The chances of post-earnings pop look slim unless, of course, third quarter results are extraordinarily good. The only other thing going in favor of SNAP stock is the high short interest which could lead to a Short squeeze in case of better than expected earnings results. Shorts have been piling on to Snap stock in spite of it being in limited borrow supply and having a new stock borrow cost of hefty 17% fee for some time, with short interest rising by 11.8% in the last reporting period. Short interest stands in at a massive 24.9% of the float with days to cover coming in at a high of 6 days. Snap stock is one of the top shorted stocks on NYSE which means a strong Q3 performance followed by an uptick could lead to some heavy short covering further driving the stock price. Given all this, there are hardly any major positives and data presently supporting the hope that Snap is going to report strong earnings in Q3. The Evan Spiegel led company needs more than an earnings beat to build on the gains from its all-time lows.
Looking for fundamentally better tech stocks than Snap Inc? Check out Amigobulls' top stock picks from the tech sector, which have beaten the NASDAQ by over 159%. Interested in automotive stock? Then, we also have our top picks from the auto sector, which have beaten the S&P 500 by over 288%. If you're a trader though, you should check out our daily trading ideas section for daily, free updates on the latest crossovers and other popular technical signals.
More