There's a lot going on in the world, but you wouldn't know it if you tuned in to the nightly news because according to the mainstream media, the only thing that happened anywhere last week is that a dentist shot a lion.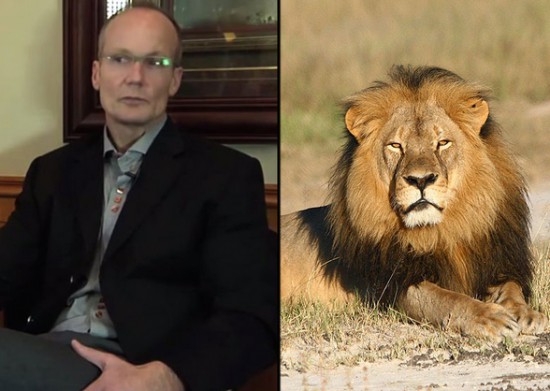 (Cecil the lion is the one on the right)
That's right folks, Walter killed Cecil and some folks - scratch that - a lot of folks are unhappy about it.
In fact, hundreds of protesters papered Dr. Palmer's office with subtle messages like "rot in hell" and "there's a deep cavity waiting for you."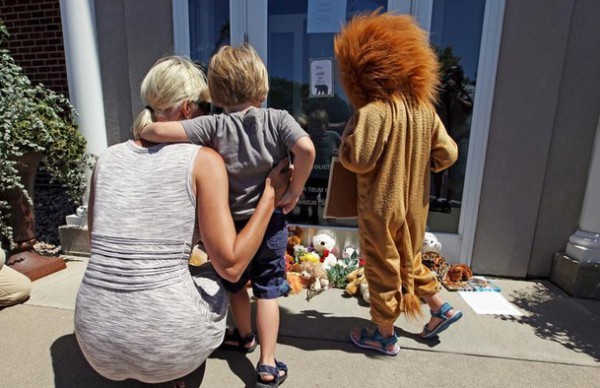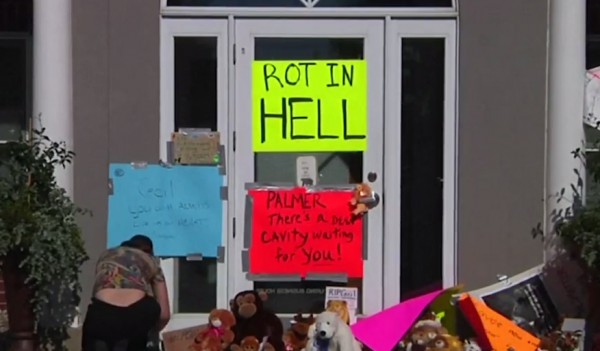 As Reuters reports, Cecil's untimely demise has the potential to put a dent in a lucrative industry by leaving a bad taste in the mouths of big game hunters, who may now hesitate before participating in this "archaic bloodsport". Here's more:
Hunters longing to shoot big game in the African wild may choose a different target after public backlash against a Minnesota dentist who killed Zimbabwe's Cecil the lion just outside a national wildlife preserve.

 

African hunts are booked months in advance and pricey affairs, often costing $8,000 to $50,000, with approval needed from U.S. and U.N. agencies to bring back trophies such as the head of a lion to the United States.

 

"It has left a bad taste in their mouths," said James Jeffrey, a Houston-based international hunting agent with more than 12 years experience.

 

"They read all those books and it is people's dreams to go over there and do it. Some of these guys have worked their whole lives to do this one hunt," he said.

 

Eleven African countries issue lion hunting permits. Of them South Africa's hunting industry is the biggest, worth $675 million, according to the Professional Hunters Association.

 

Americans make up the bulk of non-African hunters, with 15,000 going to the continent on hunting safaris each year, according to John Jackson, president of Conservation Force, a lobby group that says regulated lion hunting helps protect the animal by giving reserve owners a financial incentive to deter poachers and cultivate stock.

 

Supporters argue the money generated from hunts bolsters the coffers for conservation in emerging African countries that want to use their limited finances for social programs.

 

Critics see the hunts as an archaic bloodsport, hurting species such as lions, which an academic study in 2012 said had seen a population fall of nearly 70 percent in the last 50 years.
In response to the killing, Zimbabwe has now put a halt to big game hunts pending an investigation. From AP:
Zimbabwean wildlife authorities say they have suspended the hunting of lions, leopards and elephants in an area favoured by hunters following the killing of a lion popular with tourists.

 

The National Parks and Wildlife Authority said Saturday that bow and arrow hunts have also been suspended unless they are approved by the authority's director.

 

The authority says it is also investigating the killing of another lion in April that may have been illegal. It says it only received the information this week.
And don't expect the controversy to dissipate any time soon because in what is either a deliberate attempt on the part of an enterprising poacher to capitalize off the incident or else an incredibly ill-timed coincidence, Cecil's brother Jericho was killed today by hunters. Here's Sky News:
The brother of Cecil the lion, Jericho, has been shot dead by poachers, the Zimbabwe Conservation Task Force has said.

 

The organisation wrote on Facebook: "It is with huge disgust and sadness that we have just been informed that Jericho, Cecil's brother, has been killed at 4pm today.

 

"We are absolutely heart broken."

 

It is thought Jericho had been protecting Cecil's cubs.
And because the story obviously needed to get sadder still, those cubs will now likely die as well. 
Via The Daily Mail:
Before his death there had been concerns Jericho would not be able to hold the territory of Cecil's cubs alone and could be chased away by rival lions. 

 

Unprotected, the lionesses and cubs are now under threat and [must] move away or be killed.

 

Last week Mr Rodrigues, told the Daily Mail Online Jericho was keeping the cubs safe from any rival males.

 

(Jericho and Cecil in better times)
As for Palmer, Zimbabwe is looking to have the dentist extradited from the US. "Environment minister Oppah Muchinguri said the dentist should be handed over to Zimbabwean officials to face justice, adding that she understood prosecutors had started the legal process to make that happen," the Daily Mail notes. 
And for anyone who thinks getting Palmer sent back to Zimbabwe will be like pulling teeth (so to speak), the public outcry may end up pressuing The White House into action, because as you can see from the screengrab below, a peitition to have Palmer extradicted has received the necessary number of signatures to warrant a response from The President: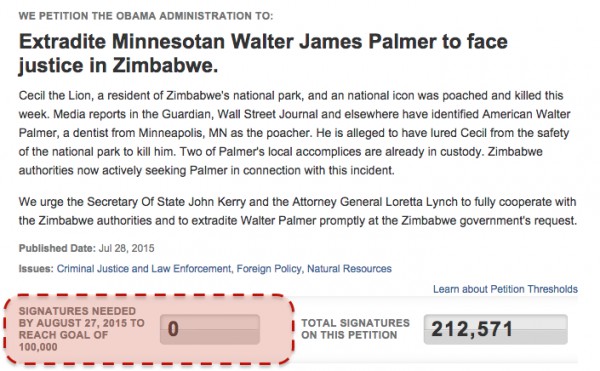 So in the end, we suppose the only question for Obama will be how to explain the fact that, as we reported on Thursday, the death of Cecil, as well as countless other lions, elephants, rhinos and other animals, is solely as a result of the Zimbabwe government's corruption. A corruption, which the US government knew all about, and despite the fact that Washington knew US hunters were killing not only elephants but lions, the government's only real concern was the "serious risks that Americans could be implicated in smuggling and poaching operations."