This week showed how things can shift quickly in the markets. For example I have been bullish on GBP/JPY and may remain to be so in the medium-long term. 
However, short-term outlook is bearish as JPY is gaining across the board.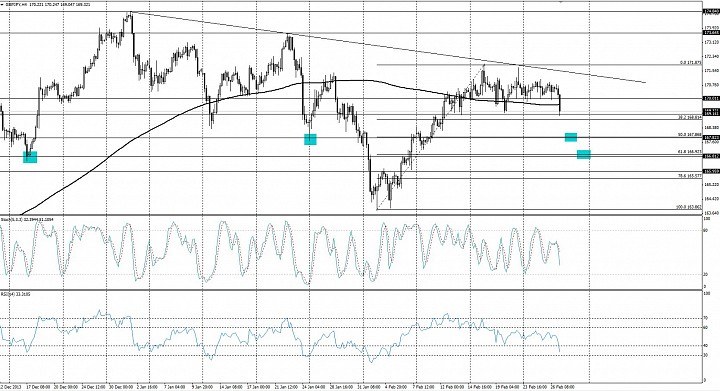 (GBP/JPY 4H chart: click for full view)
Rounded Top: 
The 4H chart shows a failure of GBP/JPY to push above a falling resistance. After the 2/27 session
 got underway, GBP/JPY broke the 169.15 support area, forming a rounded top to the February rally.
167.87 and 167.92 are 50% and 61.8% retracements and both correspond to previous support pivots.  
Fade the rally:
If there is some intra-session rally toward 170, I will consider fading it. Ideally I want to see the 4H Stochastic back near 80 and stochastic near 60 when selling.
Continuing Consolidation
The daily chart shows that the current bearish outlook is within the context of a larger bull run that is consolidating. Even within this bullish context, there is room to fall in the short-term. toward the 166 handle, and 163.80 support, which is the 2014 low so far. However, I would limit the bearish outlook to a maximum of the 200-day SMA; GBP/JPY has been trading above it since Nov. 2012.