As I have evolved as an investor over the years, I have morphed into someone who almost exclusively invests in special situation or event-driven stocks.  I've never been much of an investor in financials, but I certainly don't discriminate against them.  An interesting special situation in the banking sector popped up on my radar this weekend.  I actually came across it in an article in this week's Barron's titled 5 Spinoffs That Could Spin Higher.
The article itself is a fantastic read because it contains a lot of background information about spinoffs and statistics showing how they have been proven to outperform the market.  Today I want to talk about one specific idea that was mentioned in the article, Citizens Financial Group (CFG).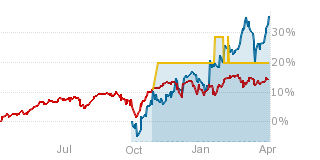 A chart of CFG vs. the S&P 500 since it began trading as an independent company
Citizens Financial was spun off from Royal Bank of Scotland (RBS) in September 2014. Like most big banks, RBS experienced significant stress during the 2008 - 2009 financial crisis.  At that time, the British government made a substantial investment in the company to help bail it out.  Naturally, the government has pressured RBS to clean up its finances.  As a result, it began to divest assets, thus Citizens Financial was born through an almost forced spinoff. At the time it went public as an independent company I kept a close eye on the situation, hoping that Citizens Financial would hit the market at distressed prices.  Alas, its initial pricing didn't seem that off, at least not enough for me to immediately jump in and purchase a stake.  The more I look at the company though, the more it displays many of the attributes that make certain spinoffs very attractive investments.
One of these qualities is the ability to invest in its operations and growth after years of being starved by a financially strapped former parent.  Another trait that often enables newly spun off companies to succeed is new, often highly incentivized management that is able to focus all of its attention and assets on growing the business and cutting costs.  It appears that is exactly what is happening at Citizens Financial.
It's funny, one of the things that I look for when investing in a company is terrible key metrics.  That may seem counterintuitive, but bear with me, it makes sense if you think about it.  Companies that are significantly underperforming their peers have no where to go but up if there is a catalyst for change and they can often be purchased on the cheap.  One of the main issues that critics of CFG cite when they talk about the bank is the firm's terrible return on equity. In 2014, Citizens Financial reported a pedestrian 6.1% ROE, slightly better than half the ROE that similar similar-size banks in the U.S. reported.  CFG itself is well aware of this and it is taking steps to fix it.  Its management has set a target of 10%.  Should it hit that, not only will it be a significantly more profitable company, but it will also likely be awarded a higher multiple by Mr. Market.
While there's a lot to like about Citizens Financial and I have added it to my on-line special situations portfolio, I have yet to pull the trigger on a purchase of the stock with real money.  One of the things that gives me pause is its valuation.  The metric that I look at first when considering investing in a bank is tangible book value. Over the years I have invested in a few banking special situations, mainly demutualizations.  In every instance where I put real money into an idea, the bank was trading at a discount to its tangible book value.  At 1.1 times tangible book value to me CFG is not exactly cheap.  Having said that, 1.1x tangible book is still 20% cheaper than the average bank in the sector.
Furthermore, when investing in special situations I love to be paid to wait for a thesis to play out.  At 1.6%, Citizen Financial's current dividend isn't exactly juicy.
One last issue has kept me from buying CFG.  I definitely do not consider myself to be a macro investor, but I do pay attention to the economy when investing in companies.  I always prefer an economic or demographic tailwind to a headwind in an investment.  Many pundits out there are talking about how the Federal Reserve is going to raise rates soon and how rising interest rates are good for bank earnings.  I have personally believed that the Fed is going to have to keep rates lower for longer than most people thing for quite some time, but for the sake of argument let's say that the Fed does begin to raise rates soon.  Would that be good for banks?  I don't think so.  Here's why.  Banks borrow money short to lend it long.  The Fed only has control of the short end of the yield curve.  If it starts raising short term interest rates, banks' borrowing costs increase.  Should the weak global economy continue to keep interest rates extremely low across the globe, that will put downward pressure on U.S. long term rates flattening the yield curve or in extreme circumstances inverting it.  In essence, my theory is that banks' borrowing costs will rise, but they wont see an equivalent increase in the rates that they can lend money out at.  That's not a good combination.
As a result, despite its many attractive attributes I am currently sitting on the sideline and have not put real money into Citizen Financial yet.  I'd love to hear others' thoughts on the company and investing in banks in general for that matter.