Since the spike to 0.62 at the end of August, the NZD/USD has been "chewing" down the tail we see in the 4h chart. This week, the descent appears to be stalled and the pair appears to be "flattening". The RBNZ cut its overnight cash rate (OCR) to 2.75% from 3.00% as most expected. The fact that it was expected may be the reason that the NZD/USD is not falling further now that the central bank pulled the trigger. Now the question for short-term traders is whether this is a "sell the rumor, buy the news" scenario.

NZD/USD 4H Chart 9/10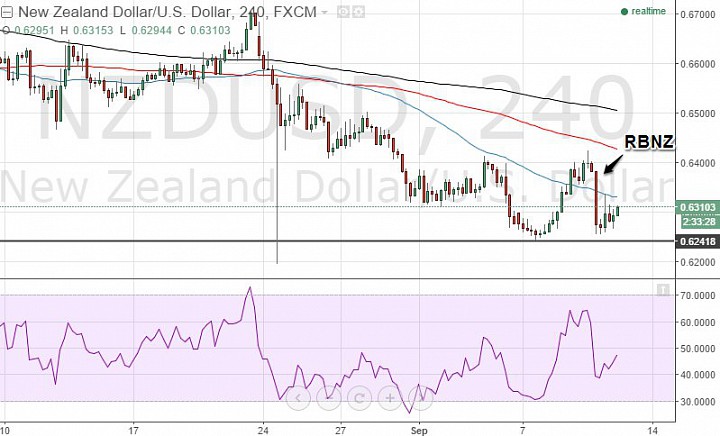 (click to enlarge)

The NZD/USD was rallying from 0.6240 ahead of the RBNZ decision. It found resistance at 0.64 and started declining after the RBNZ announced the rate cut. However, price action was unable to pull NZD/USD below the 0.6240 support pivot. 

It is still too early to dismiss the bearish continuation scenario, but if price does not push below 0.62 this week, we could be seeing a bullish correction going into the next week. 

0.64 appears to be a critical resistance to challenge this bullish correction outlook. A break above this resistance could open up the 0.67 resistance from late August.

Trade Consideration:
While the technical picture might be turning, there is a big fundamental risk next week. The medium-term outlook is still bearish, especially with the RBNZ still being dovish and the Fed expected to raise rates as early as next week. I would expect the market to hold in this 0.62-0.64 range for a few sessions. Let's see what happens after next Thursday. For now, a small position to buy from 0.6240 with target of 0.64 could be viable, but I would not load up on this trade idea. It is more of a "scalp" play for the very short-term.