Biotech major Amgen Inc. AMGN reported second-quarter 2017 earnings of $3.27 per share, which beat the Zacks Consensus Estimate of $3.09 by 5.8% and increased 15% from the year-ago period. Better revenues and lower operating costs drove the bottom line. A lower tax rate and share count also pulled up profits.
Total revenue rose 2% to $5.81 billion in the quarter, beating the Zacks Consensus Estimate of $5.67 billion by 2.5%. An unfavorable impact of foreign exchange hurt sales by 1% in the quarter.
While U.S. revenues rose 2% and ex-U.S. sales grew 8%, excluding currency headwinds.
Quarter in Detail
Total product revenue rose 2% from the year-ago quarter to $5.57 billion (U.S.: $4.39 billion; ex-U.S.: $1.19 billion) as strong demand for newer products like Prolia, Xgeva, Kyprolisand Blincyto somewhat made up for lower sales of mature brands like Enbrel, Epogen, Neulasta and Neupogen due to competitive pressure.
Revenues of Amgen's erythropoiesis-stimulating agent (ESA), Aranesp, rose 6% from the year-ago quarter to $535 million due to higher unit demand in the U.S.
Revenues of the other ESA, Epogen, declined 12% to $292 million due to lower selling price owing to a recently negotiated contract with DaVita Inc.
Neulasta revenues declined 5% to $1.09 billion from the year-ago period due to lower unit demand following competition from PD-1s and other new cancer therapies. Neupogen recorded a 30% decline in sales to $137 million due to biosimilar competition in the U.S. Zarxio, Sandoz's (Novartis AG's NVS generic arm) biosimilar version of Neupogen, was launched in the U.S. in Sep 2015 and is hurting sales.
The company expects Neulasta and Neupogen sales to continue to be hurt by competitive dynamic through the rest of 2017. However, management did specify on the call, that "no new U.S. biosimilar competition" is expected this year. This suggests that Neulasta and Epogenmay not start facing any biosimilar competition in the U.S. this year, contrary to previous expectations.
However, the Neulasta Onpro kit (on-body injector) continues to perform well commanding a market share of about 55% in the U.S. for all Neulasta sales.
Enbrel delivered revenues of $1.47 billion, down 1% from the year-ago quarter due to increased competition, which offset favorable changes in inventory and price.
However, in the quarter, market volume growth improved in the rheumatology/dermatology segments compared with the first quarter with Enbrel experiencing relatively stable unit share in these markets.
Prolia revenues came in at $505 million, up 15% from the year-ago quarter due to higher demand. The osteoporosis drug witnessed market share gains in both the U.S. and our international markets.
Meanwhile, Xgeva delivered revenues of $395 million, up 4% from the year-ago quarter mainly due to higher demand.
Sensipar/Mimpara revenues increased 10% to $427 million due to higher price increases.
Vectibix revenues came in at $168 million, up 5%, driven by higher demand.
Kyprolis recorded sales of $211 million, up 23% year over year driven by higher demand.
In the quarter, Amgen submitted regulatory applications in the U.S. and EU to include overall survival data from the ENDEAVOR study on the label of Kyprolis. The study demonstrated that a combination of Kyprolis plus dexamethasone led to superior overall survival when compared to Velcade plus dexamethasone
This overall survival data, if approved, can help drive usage and boost sales of Kyprolis.
Amgen also announced final data from the phase III ASPIRE study of Kyprolis this month, which showed that a triple combination regimen of Kyprolis plus Celgene Corporation's CELG Revlimid (lenalidomide) and dexamethasone (KRd ) significantly improved overall survival (OS) in patients with relapsed multiple myeloma compared to Revlimidand dexamethasone(Rd).
Blincyto sales surged 43% from the year-ago period to $43 million, reflecting higher demand. Earlier this month, the FDA approved the inclusion of overall survival data from the TOWER study on the label of Blincyto. The addition of the data should help boost sales.
Amgen's PCSK9 inhibitor, Repatha generated revenues of $83 million, higher than $49 million in the first quarter driven by higher demand.
Uptake of the drug, which gained FDA approval in Aug 2015, has not been very encouraging so far due to pricing and re-imbursement issues/payer restrictions. Sanofi SNY and partner Regeneron Pharmaceuticals also faced similar issues with their PCSK9 inhibitor, Praluent.
We remind investors that a phase III cardiovascular outcomes study (FOURIER) on Repatha had revealed significant reduction in myocardial infarctions and strokes in the first quarter. The data is key to commercial success of Repatha as it would broaden the use of the drug. Though data from the study looks good, it is not very clear if payers will be willing to improve access to Repatha based on this data. Amgen filed regulatory applications in both the U.S. and EU to include FOURIER data on Repatha's label in Jun 2017.
Operating Margins Increase
Adjusted operating margins rose 380 basis points (bps) to 55.2% due to lower operating costs, reflecting continued benefits from transformation and process improvement efforts.
R&D expenses declined 3% in the quarter due to lower late-stage pipeline related costs. SG&A spend declined 7% due to the Oct 2016 expiration of Enbrel residual royalty payments, which offset investments to support new product launches.
Amgen bought back shares worth $1 billion in the quarter. At the end of the second quarter, Amgen had $2.5 billion remaining under its $5 billion stock repurchase plan.
2017 Guidance
While Amgen slightly cut the lower end of the previously issued sales outlook, it raised the earnings guidance to account for strong first-half profits.
The company expects total revenue in the range of $22.5 billion to $23.0 billion versus $22.3 billion to $23.1 billion expected previously. Adjusted earnings are now expected in the range of $12.15 to $12.65 in 2017 compared with $12.00 to $12.60 per share, expected previously. The Zacks Consensus Estimate for earnings and revenues in 2017 is pegged at $12.40 per share and $22.62 billion, respectively.
Operating expenses are expected to be higher in the second half.
Our Take
It was a rather strong quarter for Amgen as it beat expectations for both earnings and sales and raised its earnings guidance. Shares, however, lost 2.4% in after-market trading probably due to concerns related to the tightened revenue guidance. However, so far this year, Amgen's shares are up 23.7%, better than the 12.7% increase registered by the industry.

Though Amgen's newer products – Prolia, Xgeva, Vectibix, Nplate and Sensipar – are all performing well, their volume growth may not be enough to offset the decline in mature brands like Enbrel due to competitive pressure. However, Amgen's restructuring plan should make it leaner and more cost efficient. Amgen is also progressing with its pipeline, including biosimilar drugs, given quite a few regulatory and data updates scheduled for the second half.
Amgen currently carries a Zacks Rank #3 (Hold). You can see the complete list of today's Zacks #1 Rank (Strong Buy) stocks here.
Amgen Inc. Price, Consensus and EPS Surprise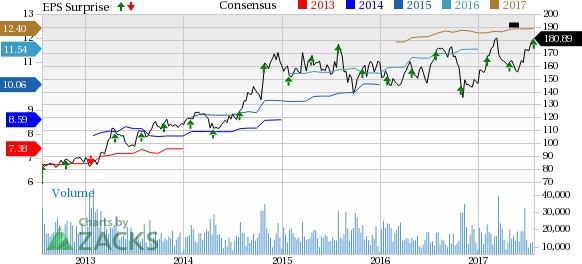 Amgen Inc. Price, Consensus and EPS Surprise | Amgen Inc. Quote
The Hottest Tech Mega-Trend of All
Last year, it generated $8 billion in global revenues. By 2020, it's predicted to blast through the roof to $47 billion. Famed investor Mark Cuban says it will produce ""the world's first trillionaires,"" but that should still leave plenty of money for regular investors who make the right trades early.
See Zacks' 3 Best Stocks to Play This Trend >>
Want the latest recommendations from Zacks Investment Research? Today, you can download 7 Best Stocks for the Next 30 Days.
Click to get this free report
Sanofi (SNY): Free Stock Analysis Report
Novartis AG (NVS): Free Stock Analysis Report
Celgene Corporation (CELG): Free Stock Analysis Report
Amgen Inc. (AMGN): Free Stock Analysis Report
To read this article on Zacks.com click here.
Zacks Investment Research