Avon Products, Inc. AVP is going through a rough phase, which is evident from its persistent dismal performances due to weak Active Representatives growth and currency headwinds. While this beauty products retailer has long been struggling, recent records reveal that it has lagged both earnings and sales estimates for three straight quarters now. However, management is striving hard to return its business to growth trajectory.

Despite its efforts to revive Active Representatives, the same declined 3% in the first quarter of 2017 compared with the prior-year quarter. Furthermore, Ending Representatives dipped 1%. We note that Active Representatives were hurt by decline in all segments except North Latin America, which was relatively flat. Ending Representatives also fell due to decline in Asia Pacific.

In addition, Avon is facing macroeconomic headwinds like mounting competition in several markets, along with greater transportation expenses mainly in Russia. Moving ahead, management anticipates the increase in bad debts (in Brazil) to linger in the second quarter as well. We believe the company's significant presence in the international markets also exposes it to the risk of negative currency movements, economic or political instability and other governmental actions. All these factors might threaten Avon's future performance.

We note that the aforementioned headwinds are well reflected in the company's share price. Shares of Avon have plunged over 14% in the last three months, against the Zacks categorized Cosmetics & Toiletries industry's gain of 10.5%. In fact, the industry is currently placed at top 48% (124 out of 256) of the Zacks Classified industries.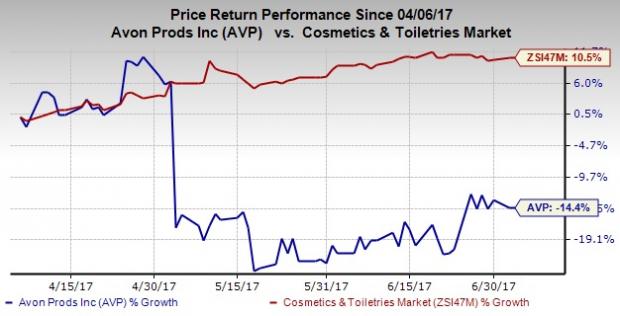 Initiatives Undertaken

Though shares of Avon have declined in the last three months, of late, we note that this Zacks Rank #3 (Hold) stock has gained 5.3% in the last one month and has also outpaced the industry's gain of just 1%. The upside might be due to the company's progress on its Transformation Plan, which remains on track. Notably, first-quarter 2017 marked the start of the second year of the plan.

Avon's three-year Transformation Plan mainly focuses on investing in growth, enhancing cost structure and improving financial flexibility. It targets bringing down costs over the long term and investing these savings back into growth initiatives like media, IT systems and social selling. In fact, the company is on track to generate targeted savings of $230 million in 2017 and savings of $350 million over a three-year period, including $200 million from supply chain reductions and about $150 million from other cost reductions. Additionally, management is trying all means to revive its waning top and bottom line and focusing on improving financial resilience.

Bottom Line

We believe these endeavors might take some time to spark a turnaround in the company's dismal performance. Notably, estimates have been stable ahead of its second-quarter earnings release.

Meanwhile, you can count on some better-ranked stocks in the broader Consumer Staples sector that include The Estee Lauder Companies Inc. EL, Inter Parfums, Inc. IPAR and Newell Brands Inc. NWL carrying a Zacks Rank #2 (Buy). You can see the complete list of today's Zacks #1 Rank (Strong Buy) stocks here.

Estee Lauder, with a long-term earnings growth rate of 12% has delivered an average positive earnings surprise of 10.9% in the last four quarters.

Inter Parfums, with a long-term earnings growth rate of 12.3% has pulled off an average positive earnings surprise of 15.6% in the last four quarters.

Newell Brands, with a long-term earnings growth rate of 12% has came up with an average positive earnings surprise of 7.7% in the last four quarters.

Today's Stocks from Zacks' Hottest Strategies

It's hard to believe, even for us at Zacks. But while the market gained +18.8% from 2016 - Q1 2017, our top stock-picking screens have returned +157.0%, +128.0%, +97.8%, +94.7%, and +90.2% respectively.

And this outperformance has not just been a recent phenomenon. Over the years it has been remarkably consistent. From 2000 - Q1 2017, the composite yearly average gain for these strategies has beaten the market more than 11X over. Maybe even more remarkable is the fact that we're willing to share their latest stocks with you without cost or obligation. See Them Free>>
Want the latest recommendations from Zacks Investment Research? Today, you can download 7 Best Stocks for the Next 30 Days.
Click to get this free report
Newell Brands Inc. (NWL): Free Stock Analysis Report
Avon Products, Inc. (AVP): Free Stock Analysis Report
Inter Parfums, Inc. (IPAR): Free Stock Analysis Report
Estee Lauder Companies, Inc. (The) (EL): Free Stock Analysis Report
To read this article on Zacks.com click here.
Zacks Investment Research