The GBP/CAD slid through a short-term level of support at 1.8255 to start the week and ran smack into another key pivot at 1.8040.
<!== INSTRUMENT %% %1440% ==!>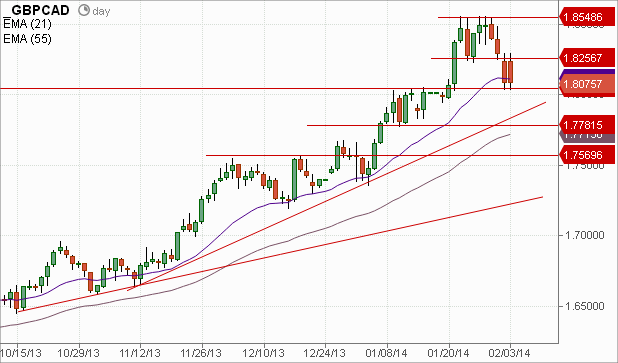 The GBP was slammed by a flight out of the GBP/USD and GBP/JPY, which reverberated into the GBP/commodity crosses.

While manufacturing data was softer than expected and was likely a factor for a soft GBP, I think this recent move seems a bit overdone.
 Why should the CAD, which has a weakening bias from its central bank do better than the GBP, where the economic data has been generally supportive of a more hawkish central bank.
The obvious answer is that there is some shifting of positions and portfolios at the moment, and what was a profitable trade in late 2013, buying the GBP at the expense of the CAD, is now seeing some profit taking.

Therefore, this downmove could extend, and a push through support at 1.8040 likely opens up the lows from early January near 1.7780.

However, its also possible that the pair finds some support at these levels, and if the GBP firms up across the board, this should be a currency pair that rallies.