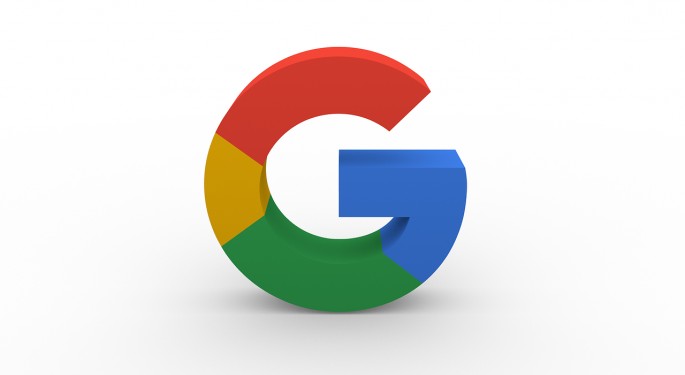 Alphabet Inc GOOG 0.67% GOOGL 0.93% reported a top- and bottom-line beats with revenue growth of 23 percent driven by strong performance at mobile search, YouTube, Google Play and Cloud.
Following the results, Credit Suisse maintained its Outperform rating and raised its target price on the shares to $1,120 from $1,070, saying, "Machine learning drove product improvement as well as efficiency."
Alphabet-owned Google reported third-quarter adjusted EPS of $9.06 above Credit Suisse's estimate of $8.08 and consensus' $8.61. The company's net revenue of $18.3 billion also topped CS' $18.1 billion estimate and consensus' $18.0 billion.
"We continue to anticipate benefits from recent ad product rollouts (Expanded Text Ads, etc.) as ongoing catalysts," analyst Stephen Ju wrote in a note.
Though higher-than-expected traffic acquisition costs led to about 20bp adj EBITDA margin compression, the analyst focuses on the absolute growth of profit dollars as opposed to margin percent.
Google Site revenues rose 23 percent to $$16.1 billion versus Credit Suisse' $16.0 billion estimate, while Google's Network revenues came in at $3.7 billion (up 1 percent year over year) versus Credit Suisse' $3.9 billion estimate.
As for Google's L&O line, the analyst believes Google Play grew about 47 percent in the quarter on an FX-neutral basis and sees fourth quarter rate to decrease to about 28 percent.
Ju raised his FY16 net revenue forecast by 21bps on higher Web Sites and Licensing & Other revenue, and adj. EPS view for FY16 by 2.4 percent to $34.11 from prior estimate of $33.29.
Ju's bullish thesis on Alphabet is based on:
"Continued narrowing of mobile-desktop monetization gap in Int'l combined with eventual higher pricing for mobile CPCs."
"Larger-than-expected contribution from Google's larger non-search businesses, namely YouTube and Google Play."
"Optionality and upward bias to estimates and shareholder value creation from Alphabet's other bets."
At the time of writing, GOOGL shares of Alphabet rose 2.01 percent to $833.74. The revised target of $1,120 represents a potential upside of 34 percent from current levels.
© 2016 Benzinga.com. Benzinga does not provide investment advice. All rights reserved.