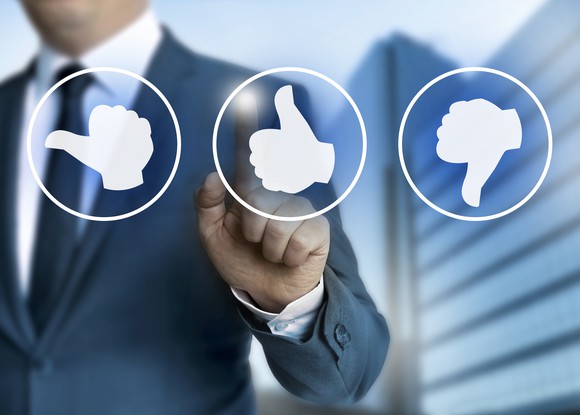 Over the past five years, there have perhaps been no large-cap biotech companies that have been as successful as Celgene Corp. (NASDAQ:CELG) and Gilead Sciences (NASDAQ:GILD). New drug launches have resulted in sales and profit surging higher at both companies. However, Gilead Sciences has been stumbling lately, and after reviewing the two companies' products and pipelines, I think it's Celgene that offers investors the best shot at future growth.
Better product portfolio
Undeniably, both companies have proven they know how to develop and commercialize top-selling medications. Celgene is the market-leading maker of multiple myeloma drugs, and Gilead Sciences dominates the market for both HIV and hepatitis C treatment.
Celgene's Revlimid is the most prescribed first- and second-line multiple myeloma drug, and Pomalyst is rapidly winning market share in the third-line setting. Last quarter, Revlimid's sales grew 30% to $1.9 billion versus a year ago, while Pomalyst's sales grew 33% to $341 million year over year.
Gilead Sciences' HIV and HCV drugs capture more than 80% of their respective markets. A new, safer formulation of the popular HIV drug Viread, marketed under the brand name TAF, is reinvigorating HIV revenue. And the company's oral hepatitis C drugs have transformed treatment in the indication, resulting in Gilead Sciences' hepatitis C sales exiting 2015 at a formidable $5 billion quarterly clip.
Both companies deserve kudos for those successes, but Celgene's first foray into autoimmune disease has gone far better than Gilead Sciences' first foray into oncology, and that's allowing Celgene to post top- and bottom-line growth while Gilead Sciences' sales slip.
Celgene notched FDA approval of Otezla for psoriasis in 2014, and ever since, the drug's prescription market share has been outpacing some of the best-selling drugs in the indication. Last year, Otezla's sales were $472 million, and this year, Otezla's sales reached an annualized $1.1 billion in the third quarter.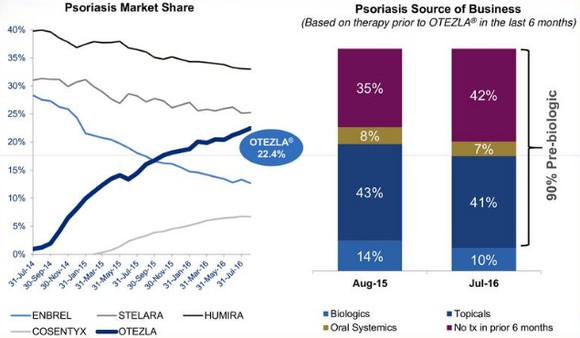 Overall, rising demand for Celgene's various drugs resulted in third quarter-sales that grew 28% from a year ago to $2.97 billion.
Celgene's success with Otezla is a stark contrast to Gilead Sciences' experience with Zydelig, a treatment for chronic lymphocytic leukemia. After winning approval in 2014, safety concerns have put a lid on...
More