The USD has been weak today across the board, and the EUR has been taking advantage.
The question we face now is, is this move that spans the latter half of Friday's session along with today's bullish move the start of a return to the upward trend we have seen in this pair during July? Or, is the current rally just a retracement to the downmove expereinced over the last 2 weeks, and we will have further USD gains in the near term. My bias tilts towards a weaker USD, because of the anticipation of a "light" tapering from the Fed.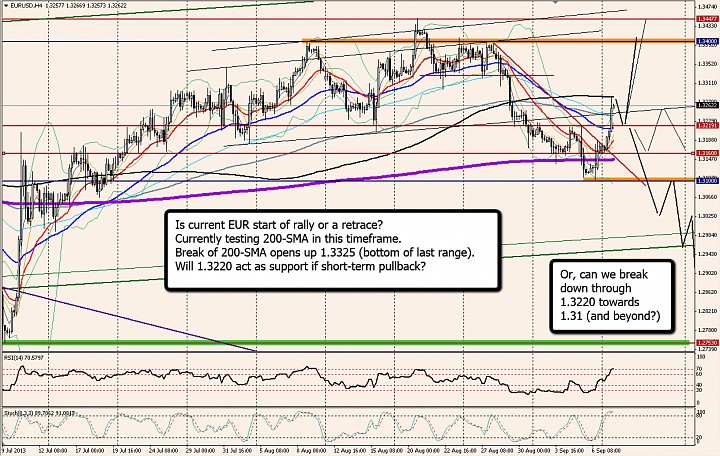 Let's look at the technical picture:
The pair first found support above the 1.31 handle (on Friday).
Has rallyed today to a high of 1.3280 - smack dab into the 200-sma in this 4H timeframe. That checked price for now.
If we break above the 200-ema, it opens up upside targets includeing the bottom of hte most erecent range at 1.3325, and then top top of that range at 1.34.

Above that is the high set about 3 weeks ago near 1.3450. 
The pair can be expected to retrace back down to the 1.3220 area, which would be an important indication of where it will go next.
If 1.3220 turns from resistance to support (more buyers come in) then the upmove will have fresh impetus.
A break down through 1.3220 turns the pair back to a sideways/neutral setting, and lows near 1.3215 and 1.31 can become targets.
- Nick