Orange Juice: Intermediate Top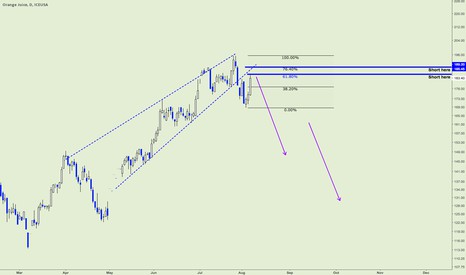 OJ prices have gone up significantly very quickly since El Niño - probably the most among all commodities . Notice, last week price broke minor two month trend line followed by a .618 retracement into the trend line.

Below is a chart showing extreme lows in the US Dollar0.00%% against orange juice0.00%% prices. My yellow indicator at the bottom must correspond with price in the purple rectangle. We have that now.

Chart below shows the key levels OJ is up against (purple boxes). Additionally, a momentum shift may be coming (see blue line on the bottom). Price will likely be challenged here. If not, they will explode higher, but I think it will be short lived if they actually do. Probability is certainly on our side for price getting challenged.