AT40 = 63.6% of stocks are trading above their respective 40-day moving averages (DMAs)
AT200 = 60.3% of stocks are trading above their respective 200DMAs
VIX = 9.6 (volatility index)
Short-term Trading Call: cautiously bullish
Commentary
The stock market had a relatively bland day that matched a relatively bland statement on monetary policy from the Federal Reserve. The S&P 500 (SPY), the NASDAQ, and the PowerShares QQQ ETF (QQQ) all made VERY marginal new all-time highs. AT40 (T2108), the percentage of stocks trading above their relative 40-day moving averages (DMAs), even closed right where I left it last Friday in my last Above the 40 post. AT200 (T2107), the percentage of stocks trading above their respective 200DMAs, also closed where it ended last week. The volatility index, the VIX, closed just 0.2 above its Friday close.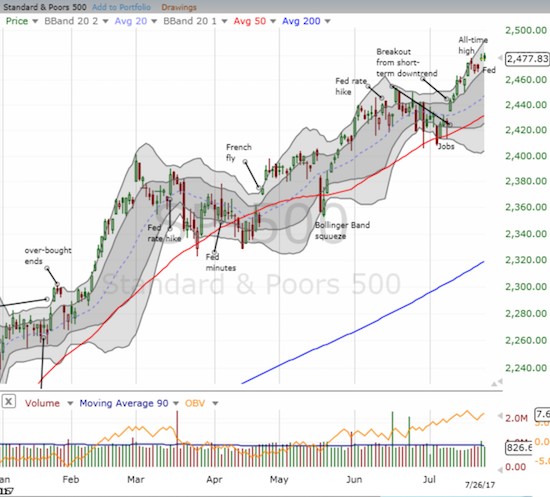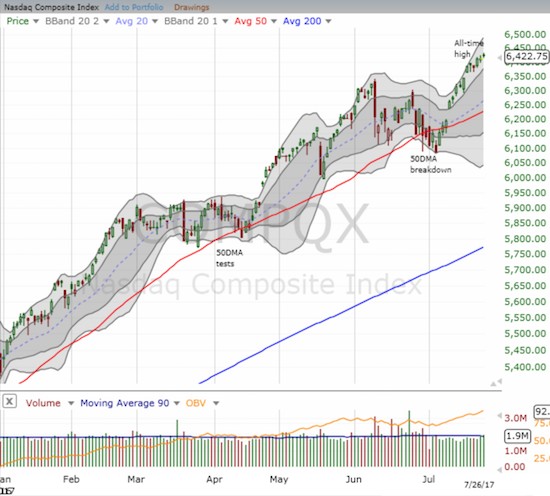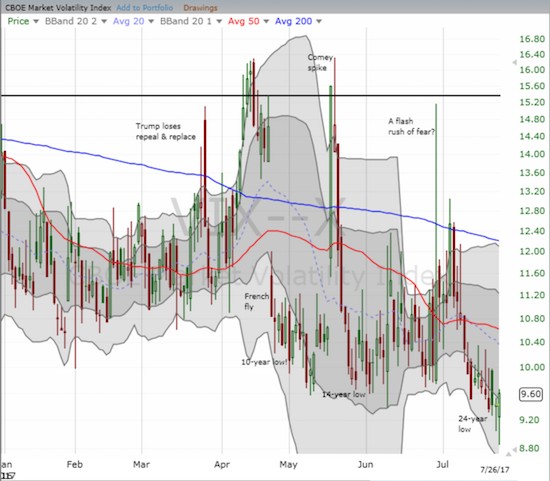 While the closes were unremarkable, the paths to these closes DO interest me. The major indices are still on general uptrends defined by their upper-Bollinger Bands (BBs). The S&P 500 is threatening to break through the ceiling I expected for the next few months. Over the last three trading days, the VIX closed at levels lower than only one other trading day since 1990. Today's intraday low set a new record for this time period. Yet, as all looks calm and peaceful, AT40 struggled again to break into overbought territory: it faded from the edge of 70%. Yesterday, AT40 faded from a high of 68.7% to close at 66.8% and continued the fade today with a close at 63.6%. So the caution that I expressed earlier remains.
The U.S. dollar index (DXY0) betrayed the calm of the day by losing another 0.8% and closing at its lowest level since early May, 2016. I guess the Fed did not give traders any reason to stop selling the dollar as they have done relatively consistently for most of 2017. It is possible to torture the Fed's statement and tease out a driver like an implicitly more dovish inflation outlook. However, since the Fed said it "expects to begin implementing its balance sheet normalization program relatively soon, provided that the economy evolves broadly as anticipated," I think the teases are a wash. Regardless of the headlines...
More