The EUR/GBP ended last week in consolidation, above 0.7370 and below 0.7430. This week, the market remained below the range resistance, and despite the support holding on Monday, it look vulnerable once again because of the strong prevailing downtrend. 

EUR/GBP 1H Chart 2/17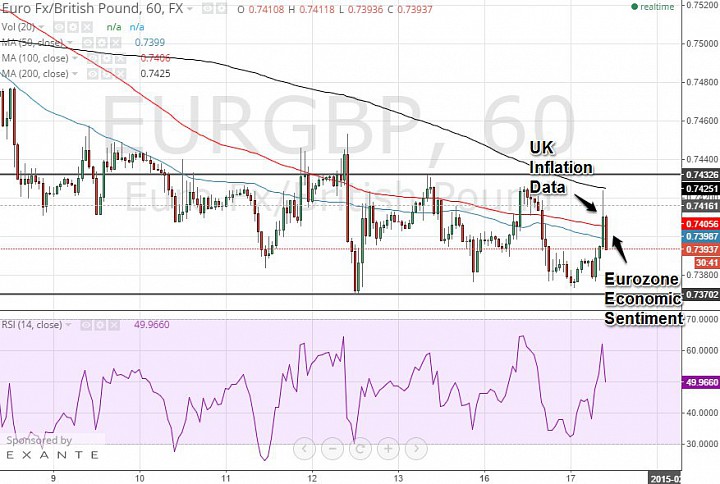 (click to enlarge)
The 1H chart, shows a market that has been bearish, but has been choppy in February. This week is no different, but the bearish bias remains as the simple moving averages are in bearish alignment, and price has held below all of them for the most part. Today, we saw weak UK inflation headlines, with a silver lining (refer to previous GBP/USD article). 

Then, German and Eurozone ZEW Economic Sentiment data for February came out:

Germany: 53.0; forecast: 55.4; previous 48.4
Eurozone: 52.7; forecast: 51.3; previous 45.2

The key take away here is that sentiment continues to improve in the Eurozone. This is the 4th straight month that this indicator has improved for both Eurozone and Germany.

The EUR/GBP's initial price action after these data points does not reflect the increasing optimism in the Eurozone. With what's going on in Greece, it will be hard for the euro to catch a break even though it seems like it has been fighting against the USD. Against the pound however, the euro has been a loser in 2014, and continues to be one in 2015.

The EUR/GBP did not even make it to the range high, and is now turning down, with pressure on the 0.7370 low, and with risk of EUR/GBP continuing the prevailing downtrend towards 0.7250, the 2003-high, and the next pivot to monitor as possible support.