Already, it looks like the "September stinks for stocks" plot line is holding true. Benchmarks are lower for the month. And Apple has cast a dark shadow over theNasdaq Composite.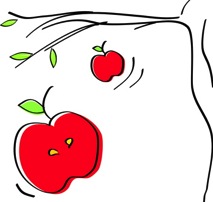 Yes, it was an awful day for Apple yesterday and, yes, it did shave off some $26 billion of its market cap in just one trading session. But there's a sweet side to the iPhone maker's rotten day, says one investment strategist: Read more on that below, in our call of the day.
And it's not like the markets haven't put in some decent attempts to move higher — reports of permanent cease-fire in eastern Ukraine got everyone excited yesterday, but then it turned out Kiev had got a bit trigger-happy in putting out its news. Bottom line: There's a cease-fire plan in place, but it's still business as has become usual. Don't think for  a second you won't hear about Ukraine jitters again.
That aside, some people — as in badass billionaires, that's who — think we'll soon say farewell to the run of "record closing highs". Billionaire investor Sam Zell toldCNBC that a stock-market correction could be coming, joining the choir of other asset kings bracing for a market breakdown.
"The stock market is at an all-time, but economic activity is not at an all-time," the chairman of Equity Group Investments said in a "Squawk Box" interview Wednesday.
As Zerohedge points out, we shouldn't be shocked by Zell's bearishness, given the chorus of similar calls from other money-masterminds. George Soros looked to some to be betting on a market crash, after he increased his S&P 500 ETF, aka SPY, put exposure to a record high. Carl Icahn also revealed he's "very nervous" about the U.S. stock market. And Stan Drunckenmiller said he's "fearful" that today's market obsession is blocking our view of the "greater long-term risks to our economy". Read more on what Zerohedge has to say.
Key market gauges:  After initially pointing to a lower open on Wall Street, futures for the Dow Jones Industrial Average DJU4 +0.03%, S&P 500 SPU4 -0.16% and Nasdaq 100 NDU4 -0.06% are now heading higher. Europe is higher after the European Central Bank cut interest rates, and investors are now waiting for Draghi to say "oui" or "nein" to QE. Asian markets closed mixed.
The quote of the day:  "It's time we stopped calling the current crop of gadgets 'wearable tech.' Instead, I propose we start giving them a more appropriate name: 'ugly tech.' Because let's be realistic, most wearables today are really, really ugly," — the New York Times's Nick Bilton, in his latest column.
The economy: Nonfarm payrolls klaxon! Actually, it's the day before the big day, but let's wake up and look for clues. ADP private-sector jobs numbers come out at 8:15 a.m. Eastern and are expected to show that the U.S. labor market is in great shape.
A trifecta of data hits at 8:30 a.m. Eastern: weekly jobless claims, the trade deficit for July and second-quarter productivity. At 9:45 a.m. it's time for the services PMI, followed by the ISM non-manufacturing index 15 minutes later.
Plus it's decision day at the ECB, where the big question is: to QE or not to QE? We'll find out when boss Mario Draghi speaks at 8:30 a.m. Eastern.
Earnings: It's the end of the season, so only a handful ahead of the bell: Joy Global JOY +0.10% reported third-quarter earnings below analysts' forecast, sending the shares 2.7% lower premarket. Ciena CIEN +0.27% tumbled 12% ahead of the open after a disappointing fiscal fourth-quarter outlook.
Hovnanian  Enterprises HOV +1.18% and VeriFone  PAY +0.06% also report.
The buzz: Apple AAPL +0.16% shares are getting hit again and are down 2% ahead of the open.
After a wobbly start, Tesla TSLA +0.23% shares are inching 0.3% higher. The luxury-electric car maker on Wednesday said it has chosen Nevada as the state to house its battery plant.
Goldman Sachs GS -0.04% climbed 0.9% ahead of the bell after the investment banklanded a key role in the coming Alibaba IPO.
Retailers could also move after the release their monthly sales figures.
The call of the day: Here the good news from the battering the iPhone maker took yesterday: This is the weakness any Apple-hungry investor should have been waiting for. Bret Jensen, chief investment strategist at Simplified Asset Management, says this is "finally a buyable dip" and brushes off the reasons for Wednesday's slide as temporary factors.
Here's why: The data breach will blow over. If anything, it'll actually help Apple refocus on security, which is an important step in entering the mobile-payment market, Jensen said. And that leads into the second reason for an Apple buy — Jensen agrees with Stifel Nicolaus that the tech darling may finally have "cracked the code" for getting users to make offline payments with their phones.
"The mobile payment capabilities are a potential game changer," Jensen said in his Seeking Alpha blog. "Obviously the firm that figures out this mobile-payment challenge is going to have a huge market opportunity."
The chart of the day: If you think the past year was overwhelming for keeping track of M&A activity, what's coming next may daunt you. Analysts at Societe Generale say there's only one way it can go — up. Using a quantitative model, they forecast that 3.1% of European and North American non-financial companies will the be target of an acquisition, up from 2.7% for the last 12 months.
In the U.S., the utility sector has the highest probability of a takeover. Companies focused on basic materials, such as steel makers and miners, stand high chances of entering new relationships, as do energy providers.