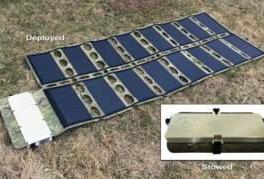 THORNTON, CO--(Marketwired - Oct 12, 2015) - Ascent Solar Technologies, Inc. (NASDAQ: ASTI), a provider of lightweight, flexible photovoltaic (PV) solutions, announced today that the Company's newest rugged fully-integrated photovoltaic power solution, the MilPak™ E, has met the grueling conditions required under MIL-STD-810G testing and has been selected as a finalist for the upcoming R&D 100 Awards in two product categories, including the exciting new "Market Disruptor" category.
In addition, the MilPak™ E has also been selected to present to the U.S. Military, Corporate, and Investment Leadership at the Defense Energy Innovation Summit and Showcase on December 1-3, 2015 in Austin, Texas.
The MilPak™ E is a fully integrated mobile power solution that includes a foldable photovoltaic blanket with an attached waterproof battery case that houses a maximum peak power tracker, 86.5 watt hours of power storage with battery management circuitry, a 55 watt 24 volt power circuit, and two high-current USB circuits.
In keeping with the ruggedized requirements, all switchgear, protection circuit, and the 24V and USB connectors are all rated IP-67 or better, and the case is constructed from a military-grade plastic. Most important, the entire unit weighs in at less than 8.5 pounds (3.8 kg) which makes it extremely portable by military or other users.
This product is the first to introduce the MilPak™ platform to the military, first responders, disaster relief workers and...
More