Cupertino based giant, Apple Inc AAPL has opened its first retail store in Taiwan at Taipei. This follows the store opening in Singapore in May this year, its first retail outlet in South East Asia.
The launch of the store in Taiwan comes as a relief for local customers who can now buy Apple products and avail repair facilities, thereby eliminating the need for Apple's website or third party resellers, per reports.
The 14,300 sq. feet store, located at Taipei 101 tower, will also give customers access to Apple's "Today At Apple" programs, like the other 495 Apple retail stores across the globe.
"Today At Apple" is an in-store educational programming launched by the tech giant in May this year. Customers will be educated through 60 free sessions on varying topics like music, photography, video, art, design coding etc.
Apple's Focus on Asia
Apple has been eyeing the fast growing lucrative Asian markets. The sheer size of the populace in the region along with growing purchasing power bodes well for Apple. Apart from China, which is already Apple's second biggest market, it is eyeing countries like India, South Korea, Taiwan, Vietnam and Thailand.
Reportedly, Apple is one of the five biggest smartphone sellers in Taiwan and holds over 15% of the market share. Also, Apple is planning to launch a store in South Korea in the next few days.
Apple Inc. Price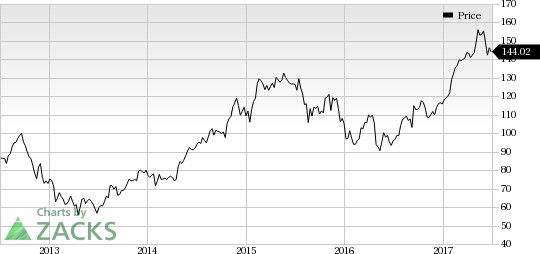 In the last reported quarter, revenues from Asia Pacific grew 20% to $3.8 billion while revenues from Japan rose 5% year over year to $4.5 billion.
When we talk about Apple's Asia expansion, India deserves a special mention. India is predicted to become the second largest smartphone market in the world. Per media reports, in the first quarter of 2017, smartphone penetration in India was 16% compared with 3% growth globally.
India presents an attractive growth opportunity for the company over the long run, given its younger population and increasing investment in 4G network infrastructure. In fact, the the government under PM Narendra Modi is eager to bring foreign capital and boost manufacturing facilities in India. In the last reported quarter, sales in India grew in double digits. In fiscal 2016, Apple sales in India grew approximately 50% over the prior fiscal. The company has partnered with telecom company Reliance, which will be providing its Jio (a unique all-IP network) service for free with the new iPhones.
Apple is also undertaking initiatives like opening its own stores in the country. Going ahead, Apple can get a bigger share of the Indian market with its offerings like iPhone SE. Also, Apple has set up its first manufacturing unit in Bangalore, Karnataka and has teamed up with Wistron Corp. to take care of the assembling of iPhones.
However, the price sensitive nature of the market and tough competition from the likes of Samsung (dominant player with nearly 26% market share) and Chinese brands like Xiaomi, Oppo and Vivo remain Apple's biggest concerns.
Zacks Rank & Share Price Movement
At present, Apple has a Zacks Rank #3 (Hold). You can see the complete list of today's Zacks #1 Rank (Strong Buy) stocks here.
Over the past one year, shares of Apple have registered growth of 50.19% compared with the Zacks Computer Mini industry's gain of 49.31%.
Stocks to Consider
Better-ranked stocks in the broader tech space include TiVo Corporation TIVO, Quantum Corporation QTM, and Marvell Technology Group Ltd. MRVL, all sporting a Zacks Rank #1.
TiVo, Quantum, and Marvell have delivered average positive earnings surprise of 67.56%, 43.75% and 86.70%, respectively in the trailing four quarters.
5 Trades Could Profit "Big-League" from Trump Policies
If the stocks above spark your interest, wait until you look into companies primed to make substantial gains from Washington's changing course.
Today Zacks reveals 5 tickers that could benefit from new trends like streamlined drug approvals, tariffs, lower taxes, higher interest rates, and spending surges in defense and infrastructure. See these buy recommendations now >>
Want the latest recommendations from Zacks Investment Research? Today, you can download 7 Best Stocks for the Next 30 Days.
Click to get this free report
Quantum Corporation (QTM): Free Stock Analysis Report
Marvell Technology Group Ltd. (MRVL): Free Stock Analysis Report
TiVo Corporation (TIVO): Free Stock Analysis Report
Apple Inc. (AAPL): Free Stock Analysis Report
To read this article on Zacks.com click here.
Zacks Investment Research