Omega Protein Corporation's stock has been on an upward move lately.
Part of the reason has to do with the quarterly surprise, but also because of its acquisition strategy over the past several years.
Another reason is that the company has been pressured by a major shareholder to find ways to unlock value.
Aside from the fact that I think the stock is inexpensive, any time an activist hedge fund gets involved by pressuring a board to unlock value, shareholders often benefit.
Has anyone noticed what Omega Protein Corporation's (NYSE:OME) stock has been doing recently? If not here's the chart: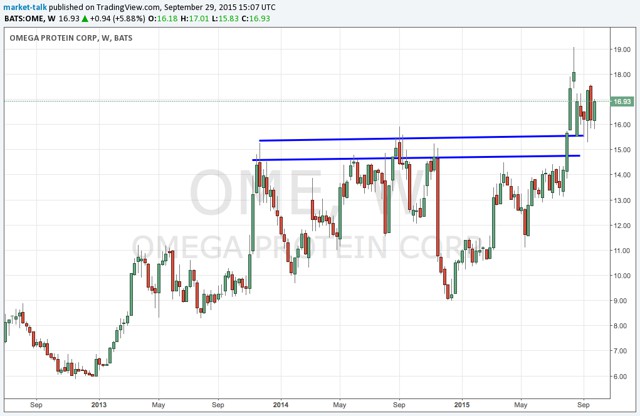 As a reminder, I first wrote about OME back in December of 2012 (please consider: Should Fish Oil And Fatty Acids Be Part Of Your Portfolio?) when the stock was trading at around $6 a share, with a buy rating and expectations for the stock to at least double on a 12-month forward basis.
I reiterated my buy recommendation just a few months later, but have not been very active with the stock ever since, having written just two follow-up articles (full coverage of all my OME articles here).
My price targets over the past two years have been reached. And the question now is, if you still have OME, what do you do with it? My answer is just hold it and do nothing, and buy it if it...
More