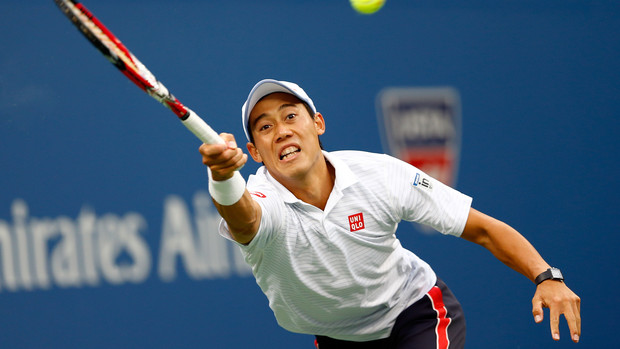 Photographer: Julian Finney/Getty Images
Billionaire Tadashi Yanai and hisFast Retailing Co. (9983) will pay Kei Nishikori a 100 million yen ($941,000) bonus after his loss in the U.S. Open final, in addition to payments in his endorsement contract.
Yanai, also Japan's richest person, will give 50 million yen of the reward and the company will cover the rest after Nishikori made history as the first man from Asia to play in a Grand Slam tennis final. Nishikori lost in straight sets to Marin Cilic, 25, who won his first Grand Slam title.
Croatian Cilic routed the 24-year-old Japanese in a match watched by Japanese fans around the world, including hundreds who gathered at a public hall in Nishikori's home prefecture of Shimane. Yanai, president of Asia's biggest clothing company, signed a sponsorship deal with Nishikori three years ago, when Fast Retailing wasn't even marketing a tennis wear line.
Nishikori has also signed endorsement deals with Nissin Foods Holdings Co. (2897), Delta Air Lines Inc., LVMH Moet Hennessy Louis Vuitton SA's Tag Heuer and Japanese financial services firm Jaccs Co.
Like Yanai, Kei Shibata is celebrating in New York, even though his man lost in the U.S. Open final.
Fan Frenzy
Shibata had been in Los Angeles when Nishikori made tennis history by beating No. 1 Novak Djokovic in the semifinal. President of Tokyo-based travel and hotel website operator Venture Republic, Shibata went straight online, bought a ticket to the final and booked a flight to New York.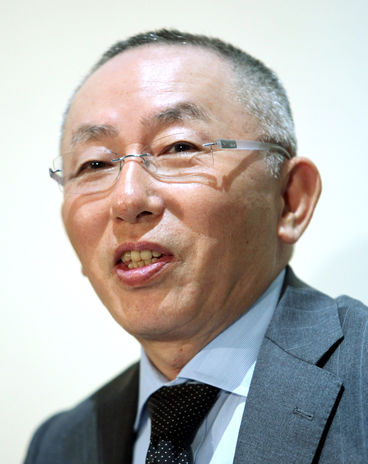 He said he watched the match after paying more than $300 for "high up" seats in Arthur Ashe Stadium at New York's National Tennis Center.
"I'm going to dinner and will have a glass of wine to celebrate," Shibata said by phone from his hotel after the match. "It won't be yakezake," he said, using the Japanese term for drowning one's sorrows in booze.
In Shimane, the morning mood was more somber. Hundreds of supporters had gathered at the Kunibiki Messe hall to cheer their native son on in the match, which lasted 1 hour and 54 minutes, about half the average of just over 4 hours for the past five U.S. Open finals.
'Next Time'
Masakai Kashiwai, one of Nishikori's first coaches, was at Kunibiki Messe, where locals had set up seats for 800 and standing area for 100 more.
"It's Kei's turn next time," Kashiwai said. "His opponent's serves were just too good."
Japanese fans around Asia said they too were happy enough to see their favorite son had made it to the final.
Hiroko Hara Friend, a former Japanese tennis professional now based in Singapore, said the 5-foot-10 right-hander's "talent is extraordinary."
"The path he took to get where he is also shows that size doesn't matter, which is important because size has always been cited as a weak point for players from Asia. I'm so proud of him," said Hara by text message.
Ryo Hamazaki, a 13-year-old, started waiting in line at 5 a.m. in Shimane to assure a seat to watch the match starting at 6 a.m., Japan time. He said that regardless of the loss, Nishikori inspired him to work harder at tennis.
Forcing Opponents
"Nishikori is my idol," Hamazaki said. "I want to be able to play on the baseline and force my opponent to make errors by making them run. That's the kind of play I saw."
The Japanese, who beat No. 1 Novak Djokovic, and No. 3 seed Stan Wawrinka on the way to the final, wasn't able to force many errors on 14th-seeded Cilic, who came to the final after beating five-time U.S. Open champion Roger Federer in straight sets, playing what he called the best tennis of his life.
Cilic dominated Nishikori in just about every statistical category. He hit 17 aces to Nishikori's two and won 80 percent of his first-serve points, while Nishikori won 55 percent. The 6-foot-6 Croatian had 38 winners, twice as many as his opponent.
Cilic also converted five of 11 break-point chances, while Nishikori managed just one of nine.
Among Nishikori's earliest supporters, Masaaki Morita had high hopes for a win today. Morita, a former Sony executive and brother of the company's founder, helped fund Nishikori's training through a program he founded to support promising Japanese tennis players.
"The opponent was really good this time," said Morita by phone after the match. "Nishikori will have more chances at finals over the next one or two years. He has the ability."
http://www.bloomberg.com/news/2014-09-08/nishikori-nets-100-...