designs and develops software and related technologies for camera-based advanced driver assistance systems. The company is based in Israel and has lots of clients all over the world, incl. top car manufacturing brands as BMW, Chrysler, Audi etc. The company's stock dropped down less than 10% over the last year, however the stock is very volatile. It grew up to almost $58 per share, and then fell down back to $43-45 level. 
<!== INSTRUMENT %% %1440% ==!>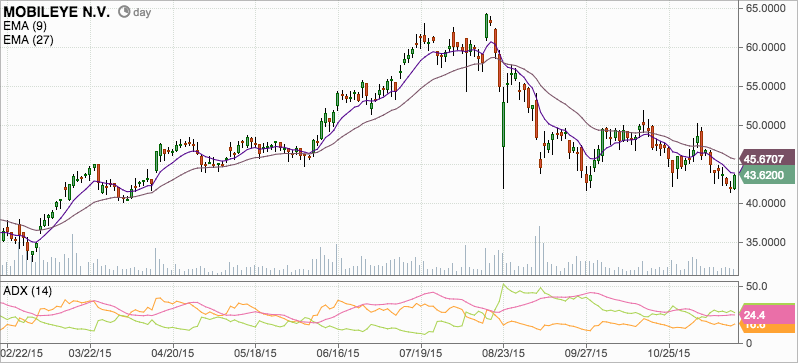 The business of the company is very interesting. It provides different software and hardware solutions for the cars. Mobileye is working on a number of products, incl. navigation, radars, intelligent lightning etc. Tesla is always associated with the technologies in automotive field. And I am sure, that Mobileye is another super-technological company in this field. 
I do really like Israel-based companies despite the fact that their stocks show a great volatility. In terms of the financials, I can underline the following tips:
Revenue: company's revenue grew up more than 60%, if we compare nine months of 2014 and 2015. Mobileye reported $169M in revenue as of September 2015;
Costs: 

Costs of goods sold: the company kept the same level of COGS as % of revenue, around 25.5%;
Marketing expenses: Mobileye decreased marketing expenses from $12M to less than $10M (nine months of 2014 and 2015). Moreover marketing expenses in Q3 2015 was less than $3M, while for the same period of 2014 the company reported more than $6M;
Product development: R&D expenses dropped down from 26% of revenue in 2014 to 19% in 2015;
G&A: company's administrative expenses decreased from almost $60M for nine months of 2014 to .... less than $27M for the same period in 2015. And this is an example of how all the companies should optimize their expenses in order to make the profitable business (when I talk about profitable business I always remember BOX Inc. with huge negative EBITDA);

Net revenue: Mobileye reported almost $50M in net income as of September 2015 vs $32M loss as of September 2014.
As you can see, basically, the company seems to be very very interesting and worth investing. But there is still one important issue: valuation of the company. At the moment market capitalization is over than $9B, which is too high for the company with less around $210-220M in annual revenue. I can be compared with some Chinese companies that provides software for construction companies.
What do you think about Mobileye? Is it another GEM from Israel or the stock bubble?