Following last night's API inventory 'draw', DOE reported a much larger than expected build of 2.62 million barrels in crude inventory - the biggest weekly build since April. WTI Crude prices are tumbing on the news. However, it is worth noting that US crude production fell for the 3rd wek in the last 4 to its lowest in over 3 months. This is the biggest 4-week production decline since Oct 2013.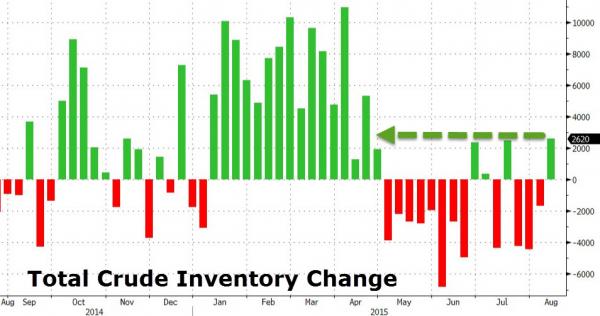 WTI Crude reacted immediately and tumbled..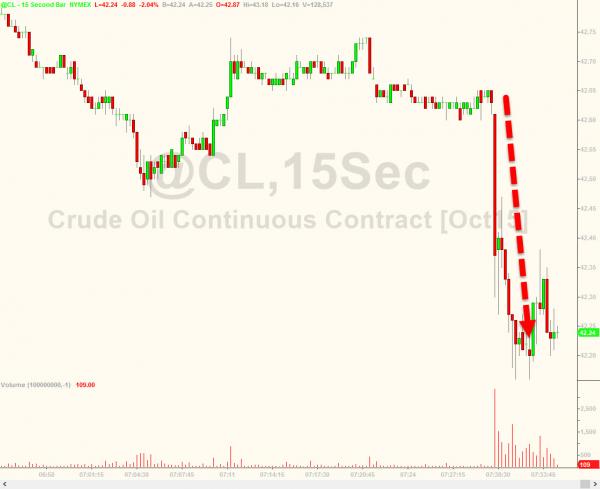 Despite the 3rd week in the last 4 of production declines... This is the biggest 4-week decline since Oct 2013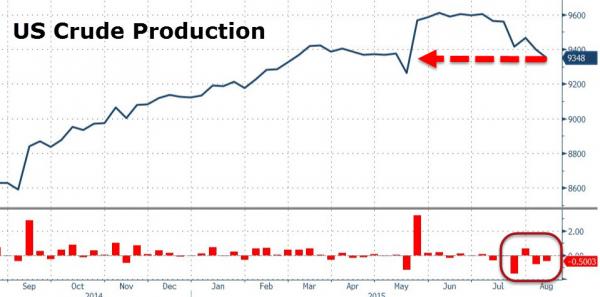 Crude prices are not helped by the fact that (as Bloomberg reports)
Angola will export the most crude in almost four years in October as the OPEC member satisfies Asian demand and offsets diminished revenue from lower oil prices.

 

Africa's second-largest producer plans to ship 1.83 million barrels a day in October, the most since November 2011, according to a preliminary loading program obtained by Bloomberg. This compares with 1.77 million barrels a day in September.

 

Angola slashed its budget by a quarter in response to the slump in crude prices, which have lost more than 50 percent in the past year. The African nation's bid to recapture revenues is supported by demand in China, the world's second-biggest oil-consumer, which imported near-record levels of crude in July.

 

"Angola continues to profit mainly from Chinese demand, in addition to some demand from India and Indonesia," said Ehsan Ul-Haq, an analyst at KBC Economics in London.
Charts: Bloomberg