Surprise! Having been fooled twice before in the last housing bubble by the NAHB's persistent optimism in the face of dismal realities, it appears October was the beginning of a breaking point in realtor confidence. The headline sentiment index dropped to 54, missing extrapolated expectations of 59, led by a collapse in prospective buyers traffic (from 47 to 41). The headline 54 level is below the lowest estimate of 56 from 52 economists surveyed. Both present and future sales sub-indices also dropped but have no fear, as the NAHB notes, "while there was a dip this month, builders are still positive about the housing market," as cheaper borrowing costs may help draw more prospectiev buyers into the market (umm yeah that hasn't worked).
NAHB sentiment missed by most since Feb...
As NAHB tries to fool us thrice...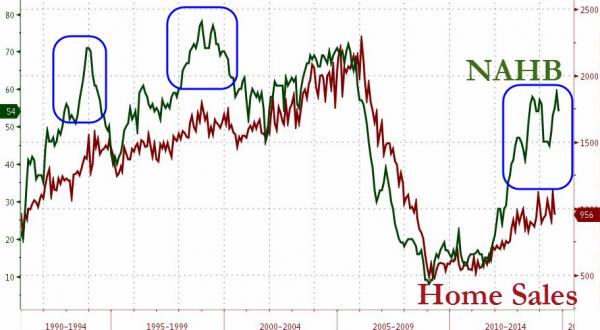 Charts: Bloomberg