It's the sixth-largest U.S. company, the fastest ever to reach $250 billion in value, with revenue that has quintupled in four years. And yet Facebook Inc. isn't in the Dow Jones Industrial Average. Why not?
The 12-year-old social network is getting harder for the Dow's overseers to ignore -- an elephant in the room after adding almost $100 billion in capitalization since the average's last reshuffling. At $323 billion, Facebook is larger than 27 of the 30 Dow members and, aside from Alphabet Inc. and Berkshire Hathaway Inc., the biggest omission. Add to that a digestible share price that would avoid the distortions that keep Google's parent and Amazon.com Inc. from being added.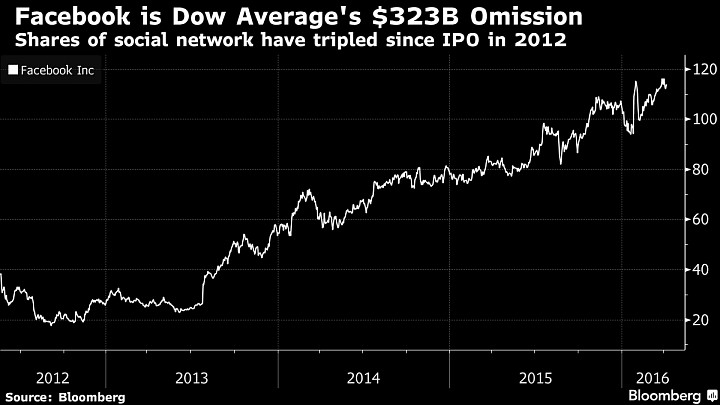 "Facebook is sort of staring at you like, 'Why isn't that in there?"' said Richard Moroney of Horizon Investment Services LLC in Hammond, Indiana. "It's the leader in its industry, maybe it's expensive and it's a stock people are divided on whether it's really worth that price, but it's not ridiculous any longer."
At the same time, barriers exist that could be insurmountable, illustrating the challenges overseers face in deciding how soon to bless an industry such as social media. Compared with other members Facebook is young with relatively low revenue and twice the valuation of other constituents. Its dual class structure annoys some governance experts. Besides that, the Dow already has a heavy weighting in tech, and might be better off waiting for Alphabet or Amazon to split their shares before adjusting it.
Created in 1896, the price-weighted Dow average is intended "to provide a clear, straightforward view of the stock market, and, by extension, the U.S. economy," according to the S&P Dow Jones Indices...
More