The 5 year bear market in the precious metals appears to be over. We won't know for certain until the current rally ends and we undergo a secondary reaction followed by a renewed uptrend. This future uptrend must exceed our current rally high before we can declare the bear market as officially over. So with the presumption that this will occur it is now time to turn our sights towards the bull market which lies before us.
We need to understand the structure in which a bull market unfolds and develops. This approach served us well in the previous precious metals (PM) bear, as it enabled us to recognize the bear well before the average investor, thereby allowing us to avoid chasing false bottoms all the way down to its final lows. Some of us even made positive returns being short at critical times. But, even more valuable than skimming profits, this knowledge allowed us to preserve our intellectual capital, thus allowing us to be mentally ready to play the upside once the bottom was in.
By chasing false bottoms all the way down the average investor became damaged goods with blown out psyche no longer willing to cast his lot onto the markets once the bottom was in. He arrived at the start of a new bull unable to recognize it and adapt the correct strategy to profit from it. The required strategy of buy and hold and ignore the skeptics had been beaten out of him over the past 5 years. That's the mental capital he had lost. So in review let's look at what has transpired over the past 5 years represented in the price action of the HUI.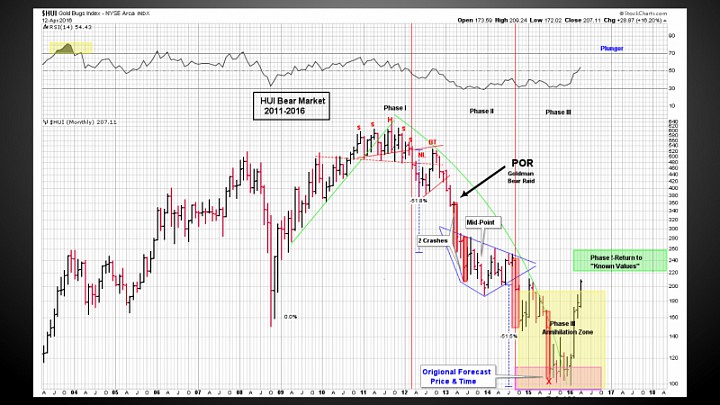 The end of the great 10 year bull market from 2001-2011 took the form of a classic H&S top which spread itself out over 2 years. This H&S top encompassed the Phase I bear period in which stocks sell minus the frothy "hopes and expectations" of the final boom of the previous bull market. Once this H&S top violated its neck line we entered Phase II of the bear market. This phase is the longest phase where stocks discount a long period of progressively worsening business conditions. It is in this phase where severe panics occur as support levels are swept away.
Once the initial panic crashes are over in phase II the market consolidates these levels in a series of bear market rallies (BMRs) serving to exhaust longs who are chasing false bottoms. Once this process is complete and the longs no longer retain the strength to hold up the market it enters its final Phase III or as I label the annihilation phase.
There are many ways to chart the bear of 2011-2016 and what you see above is my preferred method. The bear encompassed 4 crashes, 2 in phase II and 2 in phase III. I chose to display a diamond formation for the phase II post crash consolidation as once the diamond was violated to the downside we entered Phase III. Using the break out to break out method we had a perfect measured move predicting its final bottom within 3 points and in the middle of its forecast period. Having made this forecast a full 2 years before the ultimate bottom, my only regret was in not sticking to it.
Once the initial 102 low was made I waffled and readjusted my forecast for a possible 67 low in the HUI. Things seemed so bearish at the time. Yes, phase III was truly an annihilation an 85% decline from top to bottom in the SENIOR shares.
Now it's time to use our method to tackle the upcoming bull market in precious metals. Learning and understanding how bull markets develop and unfold provides us with the tools to operate in them. Bull markets, once begun, travel through 3 distinct phases just as bear markets do. By identifying these phases we can adapt our strategy to ride the bull. Big bull markets can last from 10 to 20 years. This is a long time to be lost wandering in the wilderness without an overarching plan.
Our methodology combines classic Dow Theory with Chartology to give us the plan. I have observed the great wall street analysts of old were far superior to anyone providing analysis today. So we use the method of the great analysts, Charles Dow, William P. Hamilton, Robert Rhea and Richard Russell to guide us. When we combine their method with what we term "Chartology" (the modern adaption of the classical TA of Edwards and Magee , as taught by Rambus) it gives us a means to operate in the market. The key to making a family fortune every market participant dreams of .
The vast majority of retail traders in a market lose money. So how is one to make the fabled family fortune in a bull market? The answer is simple, buy and hold. Sounds easy, right? Well it's far from easy. To make a family fortune one must property identify the beginning of the bull market, or phase I, and buy when everyone tells you you are a fool. You must then hold all the way until phase III nears its top and sell when that same group tells you to buy.
We only encounter a few secular bull markets in our lifetime, three at best, so more than likely you only have the maturity to take advantage of one or two. Consider this, how many people were able to identify the beginning of the great bull market starting in August 1982, then take a major position amid great skepticism, hold that position until the internet bubble peaked, then sell everything? Think of what this would have required. Stay long through the crash of 1987, the bear market of 1990 with its gulf war uncertainty, the Orange county bond crisis of 1994, the Mexican crisis of 1995, LTCM in 1998 and then finally recognize the internet bubble as a final phase III blowoff and sell. How many? I would say it could be numbered in the hundreds of investors…that's all, but you know what? I believe for a dedicated, disciplined student of the market it's achievable to do just that. Hold from bottom to top and then sell, that's what we are going to do and our method is going to be the tool we use to do it.
How did you like this article? Let us know so we can better customize your reading experience. Users' ratings are only visible to themselves.
Bull Market Phases
Phase I
Prior to a bull market the previous bear market knocks down prices to below "known values". This occurs in the devastating annihilation phase which we forecast in the early portion of the last PM bear market. This forecast was met with universal derision at the time because everybody's head was still in the previous bull market. These skeptics are no longer ridiculing this call, however they do remain skeptics. The psychological damage that they incurred by their obstinate bullishness in a bear market prevents them from embracing the current uptrend. They see this rally as simply another bear market rally (BMR) within the previous bear market.
It is with this atmosphere of skepticism that Phase I of the new bull market begins. Phase I is the Accumulation Phase, where farsighted investors sensing that prospects although now depressed, are due to turn up. They are willing to pick up all the shares offered by discouraged investors and distressed sellers. They are willing to raise their bids gradually as selling diminishes in...
More