Target (TGT) appears to be a in a secular bull trend since 2009, after the peak of the financial crisis.  During this rally, we have seen some major corrections in the first half of 2011, and in the second half of 2013. We are seeing another one now in the second half of 2015. 
TGT Weekly Chart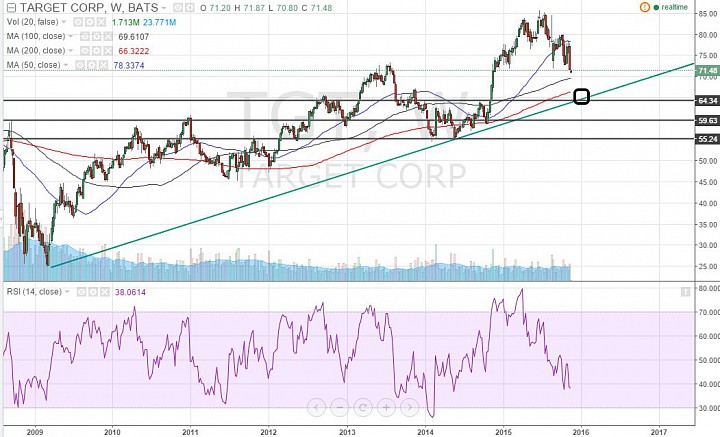 (click to enlarge)
The magnitude of the previous 2 major corrections were from 61 to 45 (approx. -26%) and from 73 to 55 (approx. -24.6%). Using a projection of 25% decline, we would project a dip to 63.75 (-25% from 85).

Just above this target, price will likely meet a rising trendline and a previous resistance pivot area. We can say that 63.50-64.50 is a possible first support target for TGT based on previous corrections and based on the projected rising trendline.
The 60 area is the next support area before the 55 support/resistance pivot.

If price bounces off the 63.50-64.50 area, I would have a strong bullish outlook with a target of at least 85.

However if price falls to 60, I would limit the bullish outlook to 85 and with less confidence. I would probably look at 80 as a more viable target if price came down to 60. 

If price goes down to 55, my bullish outlook would be limited to that 2013 high around 73. this is because if price falls to 55, the prevailing bullish trend would be broken, and we should expect a period of consolidation. While 85 is still within the context of say a sideways consolidation, there is a bigger chance that price won't get back up there, especially if the consolidation is a bearish correction, with the 45 support/resistance pivot as the next target.