For investors keeping an eye on trading by corporate insiders, TipRanks slices and dices data from insiders' SEC filings to help subscribers align their strategies with those of others, such as corporate officers with good investment track records.
Research shows that insider purchases predict share-price movements better than insider sales. But, as Barrons noted earlier this year, "purchases by C-level executives are considered a still more accurate signal because, after all, they really have the inside dope."
TipRanks' Insider Trading Stock Strategies provides users with a breakdown of the different approaches based on detected insider activity, including C-Level Strategy, which shows what officers only are buying or selling. Filtering by C-Level Strategy for stocks that have declined more than 5% in recent weeks–indicating a possible buying opportunity– reveals four hot stocks showing a Strong Positive insider signal on TipRanks (as of November 10).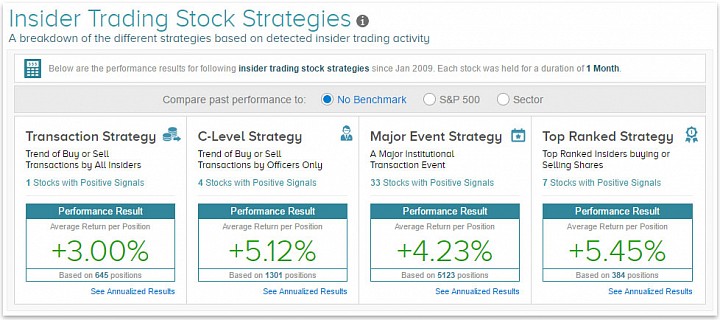 Corporate executives at ImmunoGen (IMGN) have been active buyers of the shares in recent days, according to SEC data compiled and analyzed by TipRanks. CEO Mark Enyedy purchased 25,000 shares while three other executives bought more than a combined 35,000 shares. The maker of cancer therapies has seen its stock price decline more than 32% in the past three months. The shares show a consensus Moderate Buy rating among the analysts covering the stock, with a $5.50 average price target, a whopping 171% upside from current levels.
Insider buying also produced a Strong Positive insider signal on the shares of aerospace components manufacturer Triumph Group (TGI) as the stock fell almost 10% in recent weeks. The biggest buyer was CEO Daniel Crowley, who purchased 50,000 shares in recent days. The shares of the Berwyn, PA compnay show a consensus Hold rating among the analysts covering the stock, with a $29.40 best performing analyst price target, 6% higher than current levels.
Other recent insider purchases of note include Chatham Lodging (CLDT) and Independence Realty (IRT). Corporate insiders, along with board members and 10% shareholders of publicly traded companies, are required to submit a report of all transactions to the SEC within two working days. TipRanks financial data engine analyzes the data to indicate positive or negative signals about the stock.
See for yourself which Insiders are buying and selling by using the Daily Insider Transactions tool on TipRanks.
The post C-Level Buying Often Considered Accurate Sign of Stock Direction appeared first on TipRanks Blog.