Despite last night's disappointingly weak China re-open (notably less than US ADRs had implied), it appears everyone and their pet rabbit levered up as China margin-buying rose CNY21bn - the most in 2 months. It appears China's housing market also disappointed hope-strewn expectations as Golden Week home sales slowed dramatically YoY (blamed on weather). All is not well in the liquidioty stress department as despite ongoing injections, o/n HIBOR spiked 240bps overnight. China stocks are mixed at the open as PBOC strengthens the Yuan fix for the 5th day in a row to 2 month highs. Concerns are also growing in China's corporate bond market where bubble flows have greatly rotated from stocks to drive yields on risky firms to record lows.
The China (Stock) Bubble Is Dead, Long Live The China (Bond) Bubble...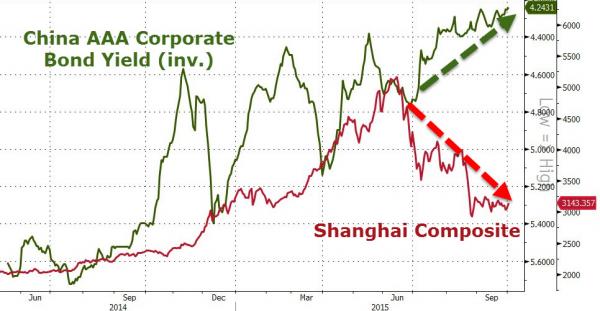 As a rout in Chinese stocks this year erased $5 trillion of value, Bloomberg notes that investors fled for safety in the nation's red-hot corporate bond market. They may have just moved from one bubble to another.
China margin-buying surged 129% off 13 month lows, the biggest daily rise in almost 3 years...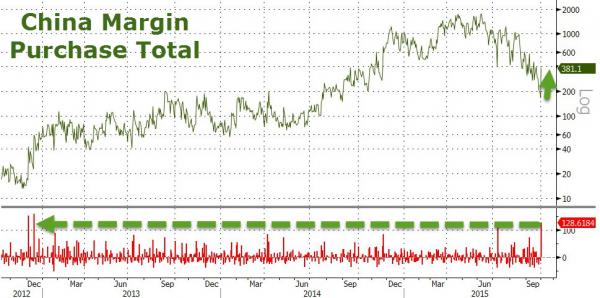 Overall, Chinese stocks re-opened notably weaker than US ADRs expected...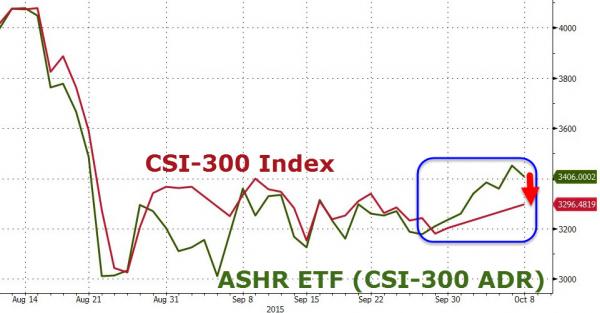 And there is not much further gains today, despite US equity exuberance...
*CHINA'S CSI 300 STOCK-INDEX FUTURES RISE 0.2% TO 3,241.4
And PBOC strengthens the Yuan fix further...for the 5th day in a row to 2 month highs
*CHINA SETS YUAN REFERENCE RATE AT 6.3493 AGAINST U.S. DOLLAR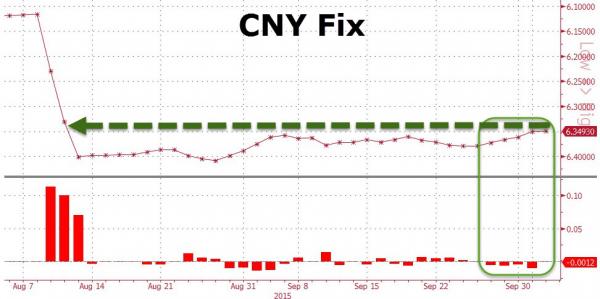 And just as the stock market disappointed, so did the housing market... Golden Week property mkt in major cities weaker than expected due to bad weather, limited time for developers to react to supportive measures, analyst Jinsong Du says in note, citing data collected by Credit Suisse.
Recommends shrhldrs of lower-tier city developers take profit given increasing downside risks
Agile, Guangzhou R&F among lower-tier city players
Y/y growth in subscription sales slowed during holiday
Sales in Sept.to early Oct. weaker than May to early June's
NOTE: Sunac leads Chinese developers retreat today, down 3.6%; Sino-Ocean Land -3.4%, Fantasia -3.2%
And Hong Kong Existing Home Prices Snap 5-Mo. Rising Streak
Overnight HIBOR rates surged 242bps to 4.11% as China re-opened, suggesting more than a little liquidity stress remains...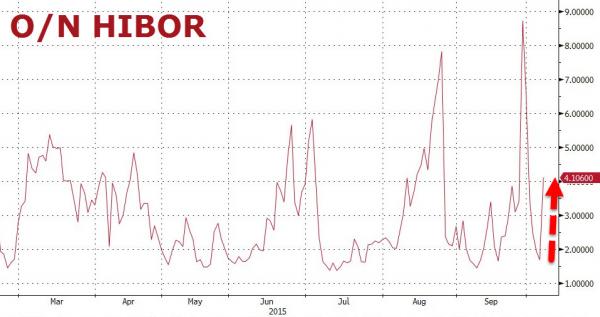 *  *  *
Japanese stocks are holding their heads just above water despite a major miss by Fast Retailing (parent of UNIQLO):
*FAST RETAILING FALLS AS MUCH AS 8.9% AS FORECASTS LAG ESTIMATES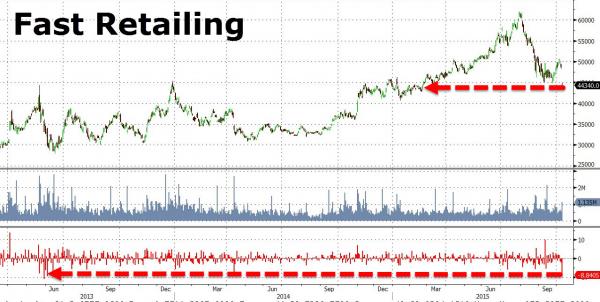 Charts: Bloomberg