The EUR/GBP has been a whippy, choppy pair. After rallying from the low on the year around 0.7875, EUR/GBP found resistance around 0.8035, which was a previous resistance pivot in late-June. Then it fell and signaled bearish continuation when it broke below a rising trendline, the moving averages, and dragged the RSI back below 30. 
However, traders bought EUR/GBP just above 0.79 and it rallied sharply. 
Then, the pair stalled at a falling trendline coming down from 0.8035. After the BoE and ECB risk events, it fell even more sharply and is now pushing at the 0.79 handle again, with focus toward the 0.7875 low.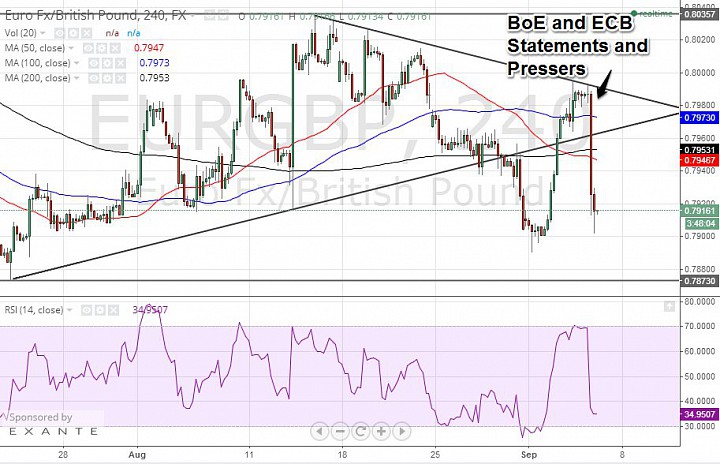 (EUR/GBP 4H Chart 9/4, click to enlarge)

This bearish reaction is based on the neutral position of BoE and the dovish action and outlook for the ECB. The ECB cut interest rates, and planned to start purchasing asset-backed-securities in October. 

Therefore, this bearish outlook has a strong fundamental backing. If price falls below 0.7870, the next support for EUR/GBP might be at the 0.7745-50 low from 2012.