The "most important and anticipated payrolls number ever", or at least since the last payroll number, is out and it is a doozy at only 173K, it is a huge miss to the 217K expected (and almost in line with LaVorgna's forecast). This was the worst monthly payrolls number since March, and the second lowest number in 19 months. However, the curious twist is that the July and June NFPs were both revised higher to 245K, making the net revision up 44K.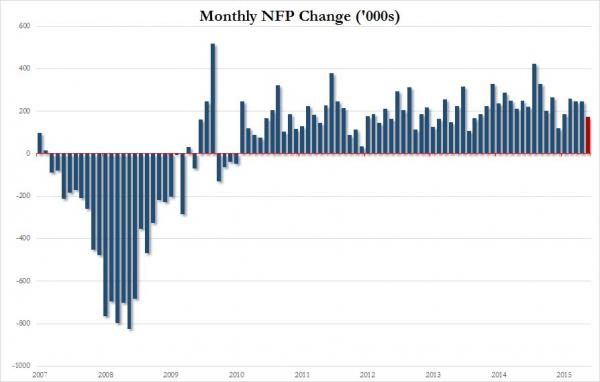 The Household survey calculated the increase in employed workers an almost equal 196K, rising to 149,036,000, which doesn't tip the scale in either direction.
The unemployment rate dropped to just 5.1%, below the 5.2% expected, and well below July's 5.3%, further boosting the Fed's case that labor slack is evaporating.
And while the headline NFP would be enough to assure no September rate hike, it was the average hourly earnings which jumped 0.3%, above the 0.2% consensus, and above July's 0.2% that may be the indication that September is still on the table after all. On an annual basis, the average hourly wages rose 2.2%, but the average weekly wages posted a 2.5% increase, the best since February.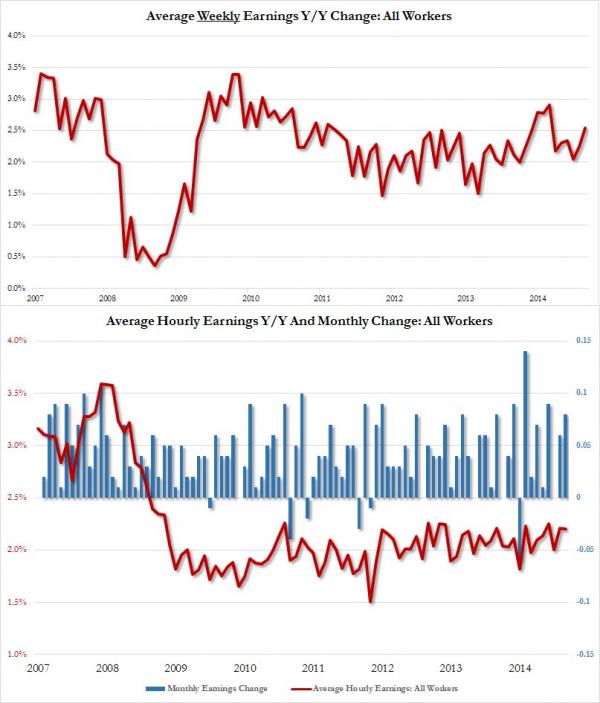 Going back to LaVorgna hitting the number almost spot on: if he was right about the print, he may also be right about the upward revision in coming months, which means the Fed will likely look past the headline weakness and focus on the stable, if not really improving, wage trends.
The breakdown from the report:
Total nonfarm payroll employment rose by 173,000 in August. Over the prior  12 months, employment growth had averaged 247,000 per month. In August, job  gains occurred in health care and social assistance and in financial  activities. Employment in manufacturing and mining declined. (See  table B-1.)

 

Health care and social assistance added 56,000 jobs in August. Health care  employment increased by 41,000 over the month, with job growth occurring in ambulatory health care services (+21,000) and hospitals (+16,000). Employment  rose by 16,000 in social assistance, which includes child day care services  and services for the elderly and disabled. Over the year, employment has  risen by 457,000 in health care and by 107,000 in social assistance.

 

In August, financial activities employment increased by 19,000, with job  gains in real estate (+8,000) and in securities, commodity contracts, and  investments (+5,000). Over the year, employment in financial activities has  grown by 170,000.

 

Employment in professional and business services continued to trend up in August (+33,000) and has increased by 641,000 over the year. 

 

Employment in food services and drinking places continued on an upward trend  in August (+26,000), in line with its average monthly gain of 31,000 over  the prior 12 months.

 

Manufacturing employment decreased by 17,000 in August, after changing little in July (+12,000). Job losses occurred in a number of component industries,  including fabricated metal products and food manufacturing (-7,000 each).  These losses more than offset gains in motor vehicles and parts (+6,000) and  in miscellaneous durable goods manufacturing (+4,000). Thus far this year,  overall employment in manufacturing has shown little net change.

 

Employment in mining fell in August (-9,000), with losses concentrated in support activities for mining (-7,000). Since reaching a peak in December 2014, mining employment has declined by 90,000. 

 

Employment in other major industries, including construction, wholesale trade, retail trade, transportation and warehousing, and government, showed little change over the month.
Bottom line: something for everyone in this report.