On Jul 7, 2017, we issued an updated report on The Medicines Company MDCO.
The Medicines Co. is a global biopharmaceutical company, focused on advancing the treatment of critical care patients through delivery of innovative, cost-effective medicines to the worldwide hospital marketplace.

The Medicines Co.'s shares have outperformed the Zacks classified Medical-Biomed/Genetics industry so far this year. The company's shares have surged 12.9% compared with the industry's register of 7% increase.





The company's portfolio is marked with four marketed products namely, Angiomax, Ionsys, Minocin and Orbactiv.

With the company's flagship product, Angiomax (an anticoagulant in patients undergoing coronary angioplasty), facing generic competition in the U.S, the company's focus lies on its pipeline candidates. It has two pipeline candidates with blockbuster potential: Inclisiran and Carbavance.

Inclisiran is a PCSK9 inhibitor, currently being evaluated in a phase II ORION study for treating patient with hypercholesterolemia. Note that The Medicines Co. is developing Inclisiran in partnership with Alnylam Pharmaceuticals, Inc. ALNY.

In Apr 2017, both companies had announced that the FDA has approved plans on phase III study design for Inclisiran, which in turn will support the submission of a New Drug Application (NDA).

On the other hand, Carbavance was evaluated in a phase III study for treating patients with urinary tract infections. In Feb 2017, the FDA had granted a priority review of the new drug application (NDA) filing for Carbavance. The approval of the drug is expected in the second half of 2017 in the U.S.

Successful development and commercialization of these candidates will further boost the company's top line, considering the lucrative markets they are targeting.

The Medicines Co. has also undertaken a restructuring program to enhance shareholder value. The company is exploring options for optimizing the capital structure and liquidity position by divesting certain non-core products.

In Jun 2016, the company had divested its non-core cardiovascular assets such as, Cleviprex and Kengreal. It has also divested another drug from cardiovascular portfolio called Argatroban to the Italian pharmaceutical company, Chiesi, for $264 million in cash as well as potential sales-based milestone payments of up to $480 million.

The above-mentioned steps have allowed the company to focus on core assets and also provide it with a source of non-dilutive funds.

While The Medicines Co.'s pipeline candidates are being developed for therapeutic areas with blockbuster potential, some of these markets are highly competitive. The PCSK9 inhibitor market has two players – Amgen's AMGN Repatha and Regeneron/Sanofi's SNY Praluent.

The market is also challenging with players looking for explicit evidence of outcomes improvement and demanding significant discounts, particularly at the beginning of product lifecycles.
The Medicines Company Price and Consensus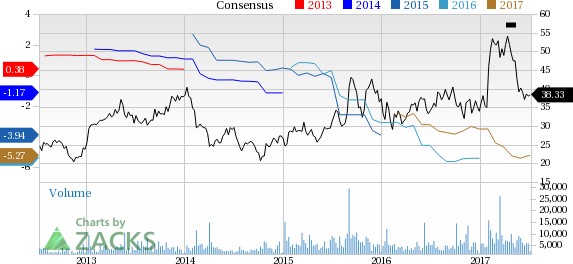 The Medicines Company Price and Consensus | The Medicines Company Quote
Zacks Rank
The Medicines Co. currently carries a Zacks Rank #3 (Hold). You can see the complete list of today's Zacks #1 Rank (Strong Buy) stocks here.
Will You Make a Fortune on the Shift to Electric Cars?
Here's another stock idea to consider. Much like petroleum 150 years ago, lithium power may soon shake the world, creating millionaires and reshaping geo-politics. Soon electric vehicles (EVs) may be cheaper than gas guzzlers. Some are already reaching 265 miles on a single charge.
With battery prices plummeting and charging stations set to multiply, one company stands out as the #1 stock to buy according to Zacks research.
It's not the one you think.
Want the latest recommendations from Zacks Investment Research? Today, you can download 7 Best Stocks for the Next 30 Days.
Click to get this free report
Sanofi (SNY): Free Stock Analysis Report
The Medicines Company (MDCO): Free Stock Analysis Report
Amgen Inc. (AMGN): Free Stock Analysis Report
Alnylam Pharmaceuticals, Inc. (ALNY): Free Stock Analysis Report
To read this article on Zacks.com click here.
Zacks Investment Research