Moments ago yet another industrial bellwether company, United Technologies, which is at the nexus of the building and aerospace industries, reported Q4 EPS and revenues, which missed, but worse, cut 2015 EPS guidance from $7.00 - $7.25 to $6.85-$7.05, blaiming FX headwinds. Well, yeah, it's always something. And that something is why 2015 EPS on not only a GAAP but increasingly non-GAAP basis will be lower in 2015 than in 2014.
However, while the guide-down means that UTC will soon join the seemingly endless parade of (mostly energy) companies that have laid off employees, there is great news for shareholders. Because even as the company see less growth opportunities and can barely keep up with Wall Street expectations, it has found a great way to reward those who buy its stock: by buying it right back from them.
To wit:
UTC expects to invest $1.7 billion in capital expenditures in 2015, and continues to estimate cash flow from operations less capital expenditures in the range of 90 to 100 percent of net income attributable to common shareowners.  The company now expects share repurchase of $3 billion and acquisitions of approximately $1 billion in 2015, following $1.5 billion and $530 million, respectively, in 2014.
In short: UTC will "invest" twice as much in boosting its won stock price as it will in organic growth. So how does this budget compare to previous years?
Here is the naswer.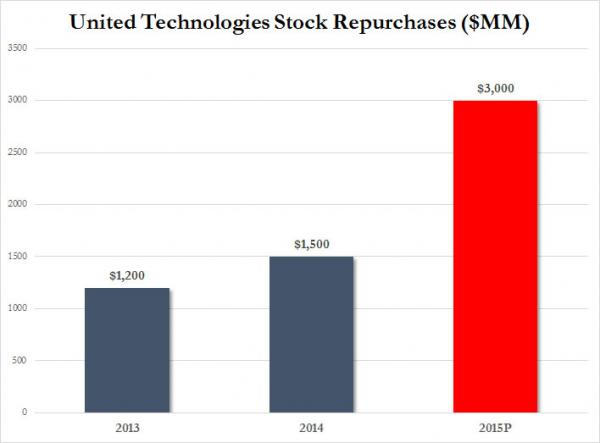 Alas, with the Fed out - for the time being - the only "growth" left is in the equity-linked compensation column of management.
And just to prove that this particular "strategy" is not lost on anyone else, here is Dunking:
DUNKIN' NOW SEES ADJ. EPS FOR YR $1.83-$1.87, SAW $1.88-$1.91
DUNKIN' BRANDS TO BUYBACK $700M SHRS
Sadly this balance sheet engineering will only end when bond investors scrambling for even the smallest amount of additional yield, stop handing over "Other people's money" to management teams whose only value added now is to buy back their own stock.