Papa Murphy's FRSH just released its second quarter fiscal 2017 earnings results, posting earnings of $0.07 per share and revenue of $29.1 million. Currently, Papa Murphy's has a Zacks Rank #3 (Hold), and it is up 0.25% to $4.09 in after-hours trading shortly after its earnings report was released.
Papa Murphy's:
Beats earnings estimates.The company posted adjusted earnings of $0.07 per share, after excluding $0.44 for non-recurring items, beating our Zacks Consensus Estimate of $0.04. Papa Murphy's earnings grew 16.7% year-over-year.
Missed revenue estimates.The company saw revenue figures of $29.1 million, missing our estimate of $30.74 million. Revenue decreased year-over-year by 2.65%.
Comparable store sales decreased 4.3% compared to the second quarter of 2016, including a 4.1% decrease at domestic franchise-owned stores.
The company opened thirteen new stores, including eleven units in the U.S.
Looking ahead, the company expects to open 40 new stores, lowering the previous guidance of 60 to 75 stores.
"During the quarter, we continued to make progress on several key strategic initiatives designed to drive sales and profitability at the store-level. We expanded our delivery pilot ot two additional markets, added a new third-party partner, and began executing the transition of our e-commerce platform to Ohio," said Jean Birch, Board Chair and former CEO.
"We believe that through successful execution against these strategies, along with the leadership of Weldon Spangler, our new CEO, we can return to sustained growth and profitability."
Here's a graph that looks at Papa Murphy's price, consensus, and EPS surprise:
Papa Murphy's Holdings, Inc. Price, Consensus and EPS Surprise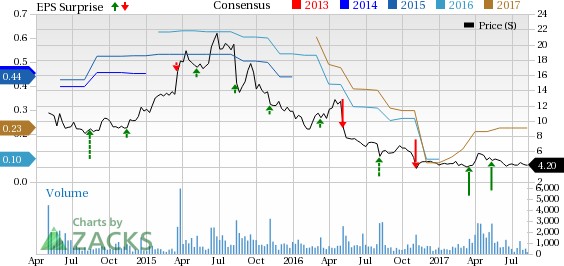 Papa Murphy's Holdings, Inc. Price, Consensus and EPS Surprise | Papa Murphy's Holdings, Inc. Quote
Papa Murphy's Holdings Inc. operates as a franchisor and operator of the Take 'N' Bake pizza chain in the United States. The Company operates in three segments: Domestic Company Stores, Domestic Franchise and International. In addition to scratch-made pizzas, the company offers a growing menu of grab 'n' go items, including salads, sides and desserts. Papa Murphy's Holdings Inc. is based in Vancouver, Washington.
More Stock News: Tech Opportunity Worth $386 Billion in 2017
From driverless cars to artificial intelligence, we've seen an unsurpassed growth of high-tech products in recent months. Yesterday's science-fiction is becoming today's reality. Despite all the innovation, there is a single component no tech company can survive without. Demand for this critical device will reach $387 billion this year alone, and it's likely to grow even faster in the future.
Zacks has released a brand-new Special Report to help you take advantage of this exciting investment opportunity. Most importantly, it reveals 4 stocks with massive profit potential. See these stocks now>>
Want the latest recommendations from Zacks Investment Research? Today, you can download 7 Best Stocks for the Next 30 Days.
Click to get this free report
Papa Murphy's Holdings, Inc. (FRSH): Free Stock Analysis Report
To read this article on Zacks.com click here.
Zacks Investment Research