Zoetis Inc. ZTS is scheduled to report third-quarter 2017 results on Nov 2 before the market opens.
Zoetis' performance over the last four quarters has been mixed, with the company surpassing expectations thrice and meeting the same once. The average positive earnings surprise over the last four quarters is 6.98%. Let's see how things are shaping up for this announcement.
Zoetis' share price movement year to date shows that the stock has outperformed the industry. The stock has moved up 19.7% compared with the industry's decline of 2.2% during this period.

Why a Likely Positive Surprise?
Our proven model shows that Zoetis is likely to beat estimates this quarter because it has the right combination of two key ingredients.
Zacks ESP: Earnings ESP, which represents the difference between the Most Accurate estimate and the Zacks Consensus Estimate, is +0.33%. A favorable Zacks ESP serves as a meaningful and leading indicator of a likely positive earnings surprise. You can uncover the best stocks to buy or sell before they're reported with our Earnings ESP Filter.
Zacks Rank: Zoetis currently carries a Zacks Rank #2 (Buy). Note that stocks with a Zacks Rank #1 (Strong Buy), 2 or 3 (Hold) have a significantly higher chance of beating earnings estimates.
The combination of Zoetis' Zacks Rank #2 and a positive ESP makes us confident of an earnings beat in the upcoming release.
Conversely, Sell-rated stocks (#4 or 5) should never be considered going into an earnings announcement, especially when the company is seeing negative estimate revisions.
Factors to Consider
Zoetis derives the majority of its revenues from a diversified product portfolio of medicines and vaccines used to treat and protect livestock and companion animals. The company continues to strengthen its diverse products portfolio through lifecycle innovations, strong customer relationships and access to new markets and technologies.
Concurrent with the second earnings call, Zoetis increased its 2017 outlook. The company expects earnings in the range of $2.30–$2.37 per share and revenues of $5.15 billion–$5.25 billion. The improved outlook also suggest a better results in the third quarter. The company's companion animal business has been boosted by further penetration of new products in key countries outside the United States. Apoquel and Cytopoint and new oral parasiticide Simparica are driving growth.
The company received approval for Clavamox Chewable in the United States in May 2017 and for Cytopoint in the European Union in April 2017 and in Canada in March 2017. The approvals strengthened its canine dermatology portfolio, thus providing a boost to its top line.
Zoetis completed the acquisition of Nexvet Biopharma, an innovator in monoclonal antibody therapies for companion animals, in July. The acquisition is expected to strengthen Zoetis' pipeline of solutions for chronic pain management in dogs and cats, which represents an area of high-need in companion animal health.
We expect management to throw more light on its acquisition strategy.
Zoetis Inc. Price and EPS Surprise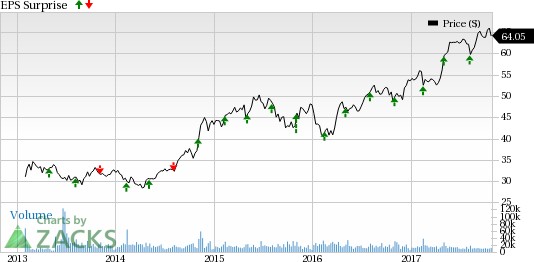 Other Stocks That Warrant a Look
Here are some health care stocks that you may also want to consider, as our model shows that they too have the right combination of elements to post an earnings beat this quarter.
Clovis Oncology, Inc. CLVS has an Earnings ESP of +2.01% and a Zacks Rank #2. The company is scheduled to release results on Nov 1. You can see the complete list of today's Zacks #1 Rank stocks here.
Agenus Inc. AGEN has an Earnings ESP of +8.11% and a Zacks Rank #2. The company is scheduled to release third-quarter results on Nov 7.
ACADIA Pharmaceuticals Inc. ACAD has an Earnings ESP of +3.2% and currently carries a Zacks Rank #3. The company is expected to release third-quarter results on Nov 6.
Zacks' Best Private Investment Ideas
While we are happy to share many articles like this on the website, our best recommendations and most in-depth research are not available to the public.
Starting today, for the next month, you can follow all Zacks' private buys and sells in real time. Our experts cover all kinds of trades… from value to momentum . . . from stocks under $10 to ETF and option moves . . . from stocks that corporate insiders are buying up to companies that are about to report positive earnings surprises. You can even look inside exclusive portfolios that are normally closed to new investors.
Click here for Zacks' private trades >>
Want the latest recommendations from Zacks Investment Research? Today, you can download 7 Best Stocks for the Next 30 Days.
Click to get this free report
Agenus Inc. (AGEN): Free Stock Analysis Report
Clovis Oncology, Inc. (CLVS): Free Stock Analysis Report
ACADIA Pharmaceuticals Inc. (ACAD): Free Stock Analysis Report
Zoetis Inc. (ZTS): Free Stock Analysis Report
To read this article on Zacks.com click here.
Zacks Investment Research