Facebook is going to report its earnings after the closing bell on Thursday this week. I truly believe that Facebook is one of the greatest stocks to own in long-term: their strategic initiatives looks great, chat bots are disrupting a few industries right now, Messenger, Instagram, What's App, Facebook Live - that's all about Facebook. Let's check Facebook's operating metrics to get a better understanding how their core business is developing now. 
Facebook's main revenue source is advertising, according to Bloomberg, Instagram contributed more than 10% to its advertising revenue in Q1 FY2016. There is no information regarding Instagram's revenue in Facebook's SEC filings, that's why I won't do any forecasts for Instargam's revenue alone without any data.
However, Facebook has one of the best investor relations department - they have their earnings report with a number of formats and, moreover, some of operating metrics are already calculated. As you may notice from my previous blog entries, I analyze the unit-economics to see how the company performs. Facebook wouldn't be an exception - first metric I'd like to analyze is ARPU - average revenue per user.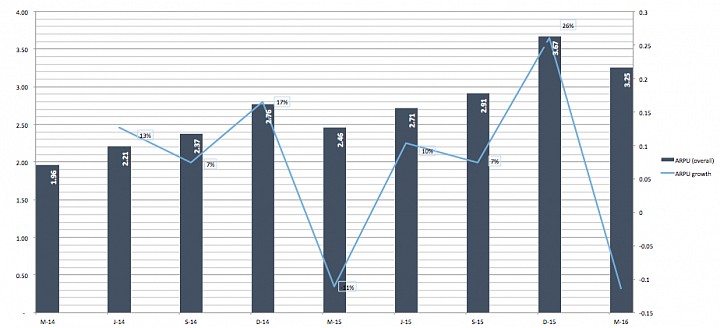 This chart shows the overall ARPU worldwide. As we can see, it is steadily going up. This drop in Q1 is seasonal, ARPU fell 11% in Q1 2015 and repeated the same move in Q1 2016. Current ARPU is almost twice higher that Facebook had back in Q1 2014, the most significant growth Facebook has in Q4. ARPU in Q2 and Q3 grows from 5% to 10%, and here is my first assumption - Facebook will most likely increase its ARPA by 5-7% in Q2 FY2016 on q-o-q basis. Hence, new ARPU will be around $3.36-$3.48. 
The most important fact is that ARPU in Asia and Pacific region dropped just 3% compared to 10% in the United States and 13% in Europe. Asian market is the most compatible market for Facebook, because they have so many local competitors. Line Corp, which went public a few months ago, is one of the examples. I think this region is really important for Facebook's sustainable long-term growth. If they are able to provide ARPU and MAU (monthly active users) growth there - it could be considered as a success. 
The next important operating metric is  a number of Monthly Active Users, or MAU.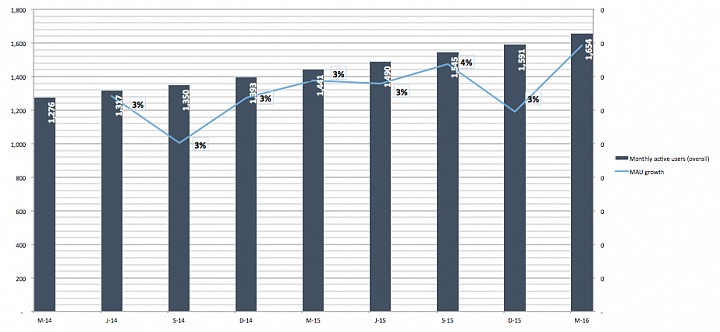 As you can see from this chart, MAU is steadily growing as well as ARPU, average growth rate is around 3.3% on q-o-q basis. Here is the second assumption - Facebook will be able to provide 3.3%-3.6% MAU growth rate, which means that Facebook will most likely have around 1,708-1,713MM MAU in Q2 FY2016. And here we can forecast the top-line revenue for Facebook in Q2 FY2016. I think they will report a number around $5,740-$5,960MM.
Nothing new here, but let's check the company's margins. I usually calculate the margin per user in order to check how much money the company is making per each user. And I have a few concerns regarding this operating margin per user metric: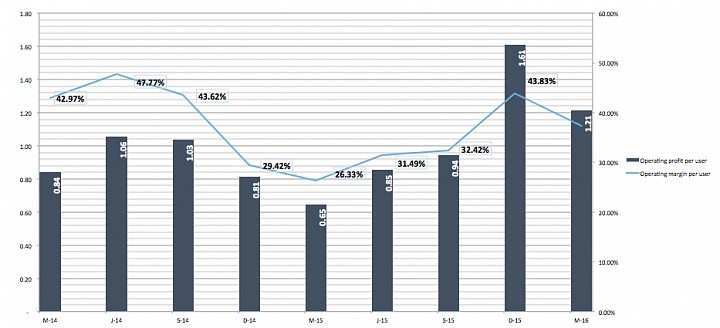 As you can see, operating margin was way above 40% during 2014 before it dropped in Q4 FY2014. Facebook handled this drop and returned operating margin to 40%+ level in Q4 FY2015, but as we know - Facebook's business is seasonal, margin dropped in Q1 FY2016. I have the most important concern here if they are able to manage this situation with margins. It's obvious that other tech companies have even less in margins (Twitter's one is below 0, for example), but if we want to get Facebook's stock in long-term, we need to understand that their management is able to make money from each of their users. Moreover, we all know that Facebook's MAU growth is limited, at least by those people who have an access to the internet. 
Instagram could be one of the products that will help Facebook avoid any negative results from their core business. I've already posted an article regarding native video advertising and I strongly believe that Facebook Live and Instagram with its videos could make lots of money using these technologies. Facebook's most recent investments show us that their management is really cautious regarding new investments, they do some super selective investments such as MSQRD and Two Big Ears. 
Conclusion
I think that Facebook will be able to increase their top-line revenue, however, I have a few concerns regarding their margins. But even if they drop this quarter and the stock goes down after missing analysts estimates, I'd pick up a few shares. I strongly believe that Facebook could accumulate the available technologies in order to accelerate their revenue growth. This is one of the best stocks to own in long-term.