Back in May, when we first got our glimpse at Virtu's financial results we found something unexpected: instead of equities, the biggest source of revenue growth for the HFT titan was one very different asset class: "global currencies" or FX, which as of Q1 was not only Virtu's largest source of revenue (surpassing America equities) at $42.2 million, but had grown at a stunning 103% Y/Y.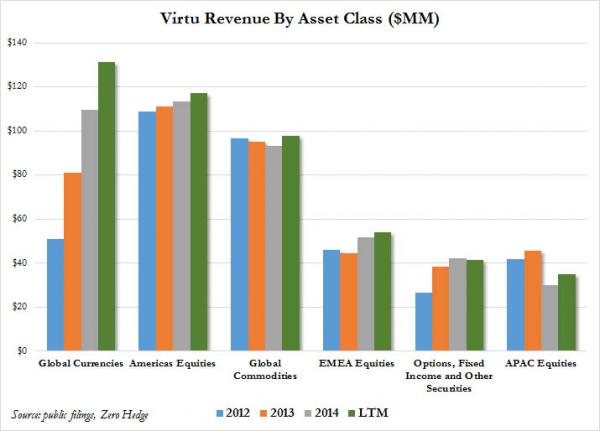 And while FX volatility, and frontrunning mammoth central bank orders was clearly profitable to Virtu, many were wondering how would the recently public company return to its roots of making the most money in equities.
To be sure we got a hint of the answer on August 25, the dat after the ETFlash crash, when Virtu's CEO said he "was on track to have one of its biggest and most profitable days in history Monday amid a tumultuous 24 hours for world markets."
Earlier today, when Virtu released its earnings we got confirmation of precisely that. As the chart below shows, while the market was plunging in the third quarter, Virtu was making off like a bandit, with revenue from American Equities soaring by 68% to $46 million in the quarter - the highest quarterly revenue in that category Virtu has generated in history.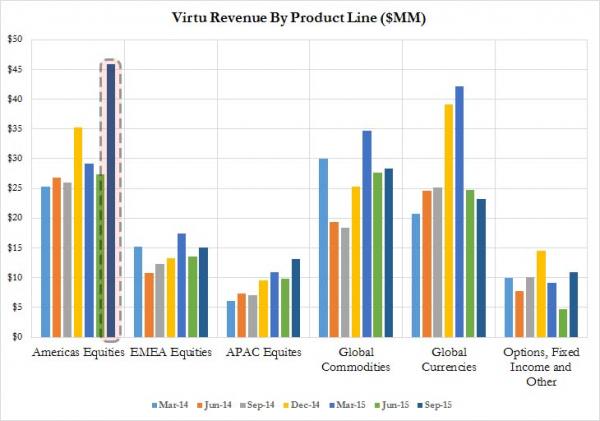 Another chart showing just the dramatic Y/Y jump in US equities "trading" revenue: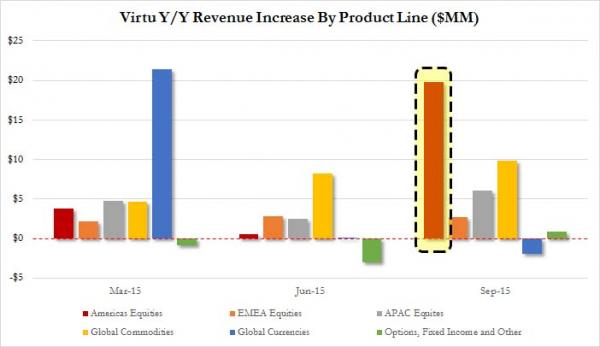 How did this happen? This is what Virtu's CEO said three months ago: "we don't cause volatility, as a market maker we're absorbing volatility and we think we soften it."
It remains to be seen if Virtu does not cause it, although one thing is now clear - every time there is a market crash, whether caused by HFTs or not, one company will make a huge profit. And if, as some suspect, Virtu does indeed "cause volatility" expect many more such episodes in the months to come.