On Jul 17, we issued an updated research report on Kalamazoo, MI-based Stryker Corporation SYK, one of the largest medical device companies in the global orthopedic market. The company currently has a Zacks Rank #2 (Buy).
The company has a diversified product portfolio which cushions it against any significant sales shortfall during economic downturns. Stryker's pipeline includes products for Hip, Knee and Mako Robotic-Arm Assisted Surgeries. MAKO results in the last quarter were solid, with almost 18 global robot installations, of which 11 were in the U.S.
Furthermore, the platforms of bone cement, sports-medicine, bones substitute, soft tissue repair, trauma and extremities, endoscopy and more fortify the company's market position.
Stryker has been following an acquisition-driven strategy to boost its growth profile. In June, the company announced a definitive agreement to acquire NOVADAQ Technologies Inc. for $11.75 per share, or $701 million with a net purchase price of $654 million. The transaction is structured as an arrangement under the Canada Business Corporations Act and is subject to customary closing conditions, including approval by NOVADAQ's shareholders. Additionally, the acquisitions of Sage Products and Physio-Control added $245 million to the company's net sales in the last quarter.
Stryker has been focusing on international growth as well. In particular, the company's Medsurg product line has witnessed strong demand in the European and Australian markets in the first quarter of 2017. On the flip side, China might prove to be a challenging market.
Stryker's strong guidance is also a catalyst. For the second quarter of 2017, the company expects adjusted earnings in the range of $1.48–$1.52 per share. For the full year, the company estimates adjusted earnings in the band of $6.35–$6.45. Stryker expects organic sales growth of 5.5% to 6.5% for full-year 2017.
Over the last six months, the stock represented a strong return of 18.6%, higher than the Zacks classified Medical - Products sub-industry's gain of 17.3%. The current level is also significantly higher than the S&P 500's return of 8.9% over the same time frame.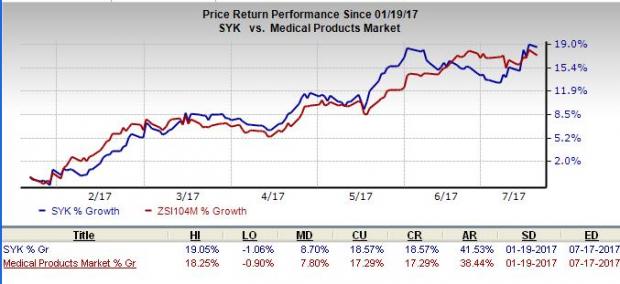 Other Key Picks
A few better-ranked stocks in the broader medical sector are Edwards Lifesciences Corporation EW, CryoLife, Inc. CRY and EDAP TMS SA EDAP. Notably, EDAP TMS sports a Zacks Rank #1 (Strong Buy), while Edwards Lifesciences and CryoLife have a Zacks Rank #2 (Buy). You can see the complete list of today's Zacks #1 Rank stocks here.
EDAP TMS represents an impressive return of 37.05% for the last three months. The company delivered a solid earnings surprise of 533.3% in the last reported quarter.
Edwards Lifesciences has a long-term expected earnings growth rate of 15.2%. Notably, the stock represents an impressive one-year return of 9.6%.
CryoLife yielded a strong return of 9.6% over the last one month. The stock delivered a positive earnings surprise of 80% in the last reported quarter.
5 Trades Could Profit ""Big-League"" from Trump Policies
If the stocks above spark your interest, wait until you look into companies primed to make substantial gains from Washington's changing course.
Today Zacks reveals 5 tickers that could benefit from new trends like streamlined drug approvals, tariffs, lower taxes, higher interest rates, and spending surges in defense and infrastructure. See these buy recommendations now >>
Want the latest recommendations from Zacks Investment Research? Today, you can download 7 Best Stocks for the Next 30 Days.
Click to get this free report
EDAP TMS S.A. (EDAP): Free Stock Analysis Report
Stryker Corporation (SYK): Free Stock Analysis Report
Edwards Lifesciences Corporation (EW): Free Stock Analysis Report
CryoLife, Inc. (CRY): Free Stock Analysis Report
To read this article on Zacks.com click here.
Zacks Investment Research