Alphabet Inc. GOOGL just released its third quarter fiscal 2017 financial results, posting earnings of $9.57 per share and revenues of $27.8 billion. Currently, GOOGL is a Zacks Rank #3 (Hold), and is up 2.21% to $1,013 per share in trading shortly after its earnings report was released.
The tech giant:
Beat earnings estimates. Alphabet reported earnings of $9.57 cents per share, soaring past the Zacks Consensus Estimates of $8.43 per share. Net income was $6.73 billion for the quarter.
Beat revenue estimates. The company reported total revenues of $27.8 billion. Taking out revenues of Google Network Members, the company saw revenue figures of $24.67 billion, beating our consensus estimate of $21.94 billion. Total revenues increased 24% year-over-year.
Operating income was $7.78 billion for Q3, while operating margin came in at 28%.
Alphabet said that aggregate paid clicks increased 47% year-over-year, but the aggregate cost-per-click was down 18% in that same time frame.
"We had a terrific quarter, with revenues up 24% year on year, reflecting strength across Google and Other Bets," said Ruth Porat, CFO of Alphabet. "Our momentum is a result of investments over many years in fantastic people, products and partnerships."
Alphabet Inc. Price, Consensus and EPS Surprise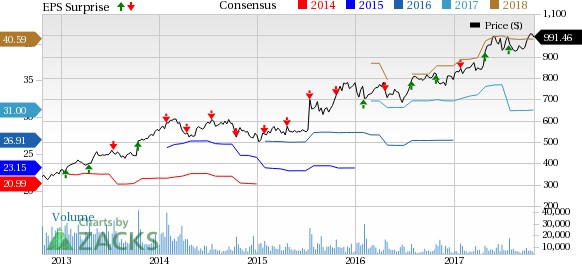 Alphabet Inc. Price, Consensus and EPS Surprise | Alphabet Inc. Quote
Alphabet Inc. is engaged in technology business. The Company provides web-based search, advertisements, maps, software applications, mobile operating systems, consumer content, enterprise solutions, commerce and hardware products through its subsidiaries. Alphabet Inc., formerly known as Google Inc., is headquartered in Mountain View, California.
Looking for Stocks with Skyrocketing Upside?

Zacks has just released a Special Report on the booming investment opportunities of legal marijuana.

Ignited by new referendums and legislation, this industry is expected to blast from an already robust $6.7 billion to $20.2 billion in 2021. Early investors stand to make a killing, but you have to be ready to act and know just where to look. See the pot trades we're targeting>>
Want the latest recommendations from Zacks Investment Research? Today, you can download 7 Best Stocks for the Next 30 Days.
Click to get this free report
Alphabet Inc. (GOOGL): Free Stock Analysis Report
To read this article on Zacks.com click here.
Zacks Investment Research