While the dollar strength this morning, which has pushed it to a fresh 13 year high and has accelerated the EURUSD plunge to under 1.06 - a drop of over 300 pips since the start of the week - has been a recap of yesterday's trading action, the main difference is that unlike yesterday, the USDJPY has managed to find a strong bid in the overnight session, pushing not only the Nikkei up by 0.4%, but also lifting US equity futures as the entire global marketplace is now merely a sandbox in which the central banks try to crush their currencies as fast as possible.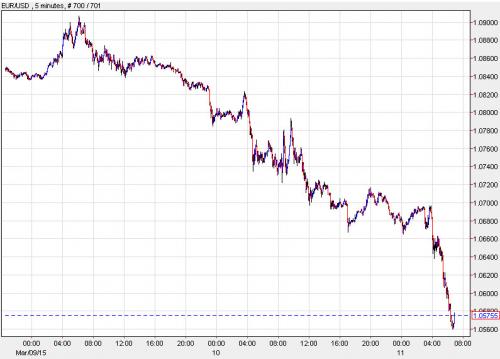 And it isn't just Europe: overnight, China reported property sales in the first two months of 2015 which dropped by the most in three years amid a glut of housing supply, and real estate investment growth eased. Retail Sales (10.7%, Exp 11.66%) and Industrial Output also missed, rising 6.8% for the Jan/Feb period, below estimates of 7.7%. Even Goldman was shocked: "Activity data for the combined January-February period (the NBS releases these two months together given the difficulty of adjusting for Chinese New Year effects) was significantly weaker than expected across IP, FAI, and retail sales. For overall industrial production, this was the weakest year-over-year reading ever (China's IP data starts from 1995) outside the global financial crisis.
This follows news that China plans to merge its big state-owned enterprises, telling thousands of SOEs "that they need to rely less on state life support and get themselves ready to list on public markets." But the most surprising development was increasing chatter of QE out of China which is banging the dram that "no QE is coming" but it simply makes the market wonder just how much further can the economy tumble before the government has to do what we first said it will.  More on this in a follow-up post.
And as usual the other big story out of Europe is how long until the entire European bond curve trades at -0.20%. Germany's 10Y Bund briefly dropped to under 0.20% before staging a modest rebound, which may well have been the ECB selling some bonds even as it buys, just to show the market it isn't merely one way action. Alas, with EGB volumes aside from the ECB negligible, it will have its work cut out for itself and very soon Draghi may be forced to admit defeat after he pushes the entire European bond complex into negative territory with over a year of QE left, giving him no further room for monetization.
The one place where European yields moved wider was Greece, where the market is increasingly convinced the troubled nation may be finally let loose from the Eurozone, especially following a Draghi statement that ECB action shields euro zone states from Greek contagion, which has been taken by some as a green light that Greece's days in the Eurozone are numbered. Not helping is French FinMin Sapin, who said Greece is running out of time, money and friends, which meanns that even France which had made the most conciliatory noises toward Greek calls for less austerity, expressed frustration with Greece FinMin Varoufakis, while Spain's finance minister also hardened the rhetoric. As a result the selling across the Greek curve has continued for yet another day as follows:
3y 18.20%; +177 bps
5y 14.76%; +79 bps
10y 10.75%; +36 bps
15y 10.77%; +38 bps
As a reminder, today the Greek technical negotiations, both in Brussels and, far more quietly in Athens, are set to begin. The outcome will not be pleasant.
Looking at equity markets, Asian stocks traded mixed following yesterday's sell-off on Wall Street, which saw US equities record their worst run in 2-months, erasing their gains for the year. Nikkei 225 (+0.3%) recovered earlier losses amid a weak JPY and as gains by health care stocks outweighed declines in energy names. Shanghai Comp (+0.1%) and Hang Seng (-0.8%) both came off their best levels as Chinese data missed expectations. Industrial Production rose 6.8% vs. Exp. 7.7% while Retail Sales saw an increase of 10.7% vs. Exp. 11.6%. JGB's trade up 52 ticks with outperformance in the belly of the curve underpinned by yesterday's rally across USTs and German Bunds.
European equities trade higher despite the losses seen at yesterday's Wall Street close and overnight, with no pertinent new macro newsflow behind the move. However to put today's move into perspective, European equites trade only modestly above yesterday's open, with prices relatively depressed elsewhere after US equities reversed their gains for the year during yesterday's session with the S&P 500 also breaking below its 50DMA. Furthermore, analysts at Goldman Sachs note that European equities have been bolstered by the ECB's QE programme and the weaker EUR which has also stemmed from the prospect of Fed rate lift-off. As a consequence of the weaker EUR< European car names lead the way higher with gains largely broad-based elsewhere after early outperformance in energy names failed to sustain as the USD continues to weigh on oil prices.
Despite pulling away from their best levels, Bunds rose sharply after the Eurex open in a similar fashion to the past few days since the commencement of the ECB's bond-buying programme, subsequently sending the German 10yr yield below 0.2% for the first time. Interestingly, after-market yesterday ECB's Coeure said he does not see any signals that it will be hard to find bonds to purchase. Nonetheless, the upside momentum for German paper failed to sustain alongside the strength in equities, while the GR/GE spread is wider as technical talks between Greece and EU start today with comments yesterday from the German finance minister suggesting a compromise is still some way off.
In FX markets, once again a bulk of the price action has been led by the USD-index which still shows no signs of slowing its recent move to the upside. This has subsequently weighed on its major counterparts, with EUR/USD further consolidating its move below 1.0600. Alongside the move in the USD, GBP/USD was unable to hold onto opening gains after the latest Ashcroft poll revealed a 4ppt lead for the Conservative party ahead of the May election; the largest lead in 3 years. This morning's session also saw ECB President Draghi on the speaker slate, however, comments were largely a reiteration of those already made.
In the commodity complex, energy prices were initially supported by yesterday's API crude inventories showed an unexpected fall in oil stockpiles (W/W -404K vs. Prev. 2900K). Nonetheless, the latest figures were not enough to sustain the upside, with Brent and WTI subsequently dragged lower by the USD to relatively unchanged territory. In metals markets, spot gold and silver trade relatively flat while Dalian iron ore futures were weaker overnight amid continued China steel sector concerns after steel inventories rose for a 6th consecutive session.
In summary: European shares rise with the autos and telco sectors outperforming and retail, oil & gas underperforming. French 10-year bond yield falls below 0.5% for first time, yields also fall to record lows in Spain, Italy, Finland, Austria. Euro drops to lowest since April 2003 against dollar. Draghi says ECB action can and will return inflation to goal. China Feb. industrial production, retail sales below estimates. The French and Italian markets are the best-performing larger bourses, U.K. the worst. The euro is weaker against the dollar. Japanese 10yr bond yields fall; German yields decline. Commodities gain, with natural gas, Brent crude underperforming and wheat outperforming. U.S. mortgage applications due later.
Market Wrap
S&P 500 futures up 0.4% to 2050.1
Stoxx 600 up 1% to 393.7
US 10Yr yield little changed at 2.13%
German 10Yr yield down 1bps to 0.22%
MSCI Asia Pacific down 0.3% to 142.3
Gold spot up 0% to $1162.4/oz
Eurostoxx 50 +1.3%, FTSE 100 +0.4%, CAC 40 +1.4%, DAX +1.2%, IBEX +0.9%, FTSEMIB +1.2%, SMI +0.7%
Asian stocks fall with the Nikkei outperforming and the Hang Seng underperforming.
MSCI Asia Pacific down 0.3% to 142.3; Nikkei 225 up 0.3%, Hang Seng down 0.7%, Kospi down 0.2%, Shanghai Composite up 0.1%, ASX down 0.5%, Sensex up 0%
Euro down to $1.0566
Dollar Index up 0.38% to 99
Italian 10Yr yield down 3bps to 1.19%
Spanish 10Yr yield down 1bps to 1.24%
French 10Yr yield down 1bps to 0.51%
S&P GSCI Index up 0.3% to 404.3
Brent Futures down 0.1% to $56.4/bbl, WTI Futures up 0.4% to $48.5/bbl
LME 3m Copper up 0.4% to $5788/MT
LME 3m Nickel up 0.8% to $14160/MT
Wheat futures up 1.4% to 500.3 USd/bu
Bulletin Headline Summary from RanSquawk and Bloomberg
As has been the case over the past few days, USD-index has continued to climb, much to the detriment of its major counterparts
European stocks trade higher amid no new fundamental macro news with European car makers leading the way higher as a result of the weaker EUR
Looking ahead, today sees the release of US crude oil inventories which are expected to show a build of 4.75mln bbls (prev. build 10.303mln) as well as the results of the Fed stress test results
Treasuries steady as week's auctions continue with $21b 10Y notes; WI yield 2.15%, highest since Dec., vs. 2.00% award in February.
Jeffrey Gundlach says if the "blockhead" Fed raises rates in the middle of 2015, it will have to reverse course; says Fed has not learned from errors made by global counterparts, Yellen spends too much time with foreign officials
Draghi said the ECB's expanded asset purchases will succeed in pushing inflation in the euro area back toward its goal
The amount of bonds eligible for the ECB to buy under QE is poised to shrink as the purchases risk pushing more yields below zero, according to SocGen
ECB QE may end early on "ugly" bond market selloff, Scotia's Guy Haselmann says
Bank of Japan needs to drive JPY to 140 if it wants to secure a 2% inflation target next year, a survey of economists by Bloomberg News shows
Officials from the ECB, EC and IMF are headed for Athens as the govt prepares to open its accounts for inspection; talks due to begin in Brussels on Wednesday with technical discussions starting in Athens a day later, according to two officials
Greece is running out of time, money and friends. France's Michel Sapin, whose govt had made the most conciliatory noises toward Greek calls for less austerity, expressed frustration with Greece FinMin Varoufakis, while Spain's finance minister also hardened the rhetoric
U.K. manufacturing output fell 0.5% in January vs expectations for 0.2% gain as computer and electronics production plunged
China's economy is already behind target as monetary easing shows few signs of traction, with industrial output, investment and retail sales growth missed analysts' estimates in January and February
Sovereign 10Y yields mostly lower. Asian stocks mostly lower, European stocks gain, U.S. equity-index futures rise. Crude and copper higher, gold lower
US Event Calendar
7:00am: MBA Mortgage Applications, March 6 (prior 0.1%)
* * *
DB's Jim Reid completes the overnight event summary
Whether there'll be a happy ending to the Fed story in 2015 is intriguing. One of the reasons we think they'll find it tough to raise rates or at least justify anything close to the dots over time is due to the likely adverse market reaction across large parts of the world to such a move. Also the continued strength of the dollar seems to be leading to more conversations along the lines of at what point does dollar strength stop simply being a sign of a relatively strong US economy and start being a reason to doubt the continuation of that strength. As we have said many times, can the Fed afford to position policy in a way that ensures they lose out in the ongoing subtle global currency war? This story won't go away. With a strong dollar, risk assets struggled across the board yesterday with global equity, credit and commodity markets weak whilst government bonds rallied again. In European equities, the Stoxx 600 fell -0.9%, the FTSE 100 -2.5%, the CAC -1.1%, the DAX -0.7%, the IBEX 35 -1.4% and the FTSE MIB -1%. There were no specific headlines to speak of in the US but the S&P500 echoed the broad based pull back in risk to close -1.7% on the day to wipe out its YTD gain. European equities are still well ahead of the US this year and we think the gap can increase further, even on a currency adjusted basis. Follow the QE flow.
China's monthly data dump has come out just as we're going to print. Overall the data was disappointing with retail sales, industrial production and fixed asset investment February YTD all below expectations. In terms of market reaction, Asian equities are a mixed bag with the Nikkei up +0.7% and the Shanghai Comp (+0.4%) outperforming the rest of the region, however the data has only just come out. The softness might promote more easing hopes though. Elsewhere the Dollar is broadly stable overnight against major currency pairs which has perhaps given Oil some support. Brent and WTI are up +0.8% and +1.3% respectively as we go to print.
Credit markets also struggled a bit yesterday with Main and Crossover in Europe +1bps and +4bps wider whilst in the US CDX IG and CDX HY widened out by +1bp and +9bps. In commodities oil closed the day down -1.4% whilst copper closed down -1.7%. The notable outperformers yesterday were government bonds which experienced a second day of impressive performance with the strong payrolls now long forgotten as German, French, UK and US 10Y yields fell 8bps, 8bps, 13bps and 6bps respectively with most European markets at multi-century all time yield lows again. We jokingly said yesterday that if the first day of QE is extrapolated out to September 2016, 10 year Bunds will be -31%! On day two moves were similar to day one so we're still on course! At a yield of 0.23% the world is indeed a strange place. Elsewhere on the curve German 2yrs rallied 1.8bps to -0.24% and 30yrs a large -13bps to 0.76%. European peripheral governments also had a positive day with 10Y Spanish and Italian yields also dropping 3bps and 6bps, although continued tensions (more later) in Greece saw the Greece 10Y yield rise 29bps to end the day back above 10%.
With the strong dollar, it was also a big day for FX markets yesterday with the euro falling 1.3% vs the greenback and 1% vs sterling, hitting roughly 12 year and 7 year lows respectively. Indeed the US dollar rose vs. every other G10 currency. This move came on the back of a relatively hawkish final speech from the president of the Fed bank of Dallas (who is stepping down later this month) during yesterday's Asian session. He argued for hikes sooner rather than later saying, "The idea that we can substitute a steeper future funds-rate path for an early liftoff seems risky to me… I would rather the FOMC raise rates early and gradually than late and steeply."
On a related note, DB's FX team in a special report yesterday revised their EUR/USD forecasts lower and now see a move down to 1.00 by the end of the year, 90cents by 2016 and a new cycle low of 85cents by 2017. Their forecasts are based upon their "Euroglut" theory which is the idea that the Euro-area's huge current account surplus reflects a very large pool of excess savings that will have a major impact on global asset prices for the rest of this decade.
In terms of macro data in Europe, yesterday saw French January IP came in notably ahead of expectation (at +0.4% MoM) whilst Italian IP came in notably below (at -0.7% MoM) whilst over in the US wholesale inventories rose more than expected (at +0.3% MoM) and the JOLTS job opening report saw both a below expectation read and a negative revision to the previous number.
Looking to the day ahead the main highlight is likely to be the talks between Greece and its creditors today with eurogroup head Jeroen Dijsselbloem (Bloomberg News) saying yesterday that Greece must begin talks today with both technicians (EC, ECB and IMF in Athens) and creditors in Brussels as, "If the programme remains lying dead in a corner, then the world outside won't have much trust in it, and then the lack of confidence in Greece and around Greece will return" (Reuters). He added that, "Just receiving the money without any action - it's not going to happen," which underlines that the rest of Europe is expecting progress from the Greeks now. Beyond Greece, in Europe we have UK January IP (expected to rise to +0.2%), and have speeches from the ECB's Draghi, Praet and Liikanen. In the US the Fed is releasing results for the second set of stress tests.