Price of renewable fuel credits jumped 32 percent in 2 months
Compliance to cost merchant refiner group $1.8 billion in 2016
While oil is mired in a bear market, prices in an obscure corner of the fuel world are only going higher.
Renewable fuel credits surged 32 percent in the past two months, even as oil slumped. This year, U.S. refiners from CVR Refining LP to Valero Energy Corp. will pay $1.8 billion for the credits, known as RINs, adding to the pain of the lowest summer profit margins in five years. The market has gotten so frothy that fuel makers are looking to increase exports to avoid the cost and ethanol lobbyists are calling for an investigation into potential price manipulation.
"RINs continue to be an egregious tax on our business and have become our single largest operating expense, exceeding labor, maintenance and energy costs," Jack Lipinski, chief executive officer of CVR Refining, said last week in the company's second-quarter earnings call. "As a matter of fact, RINs are double our labor cost."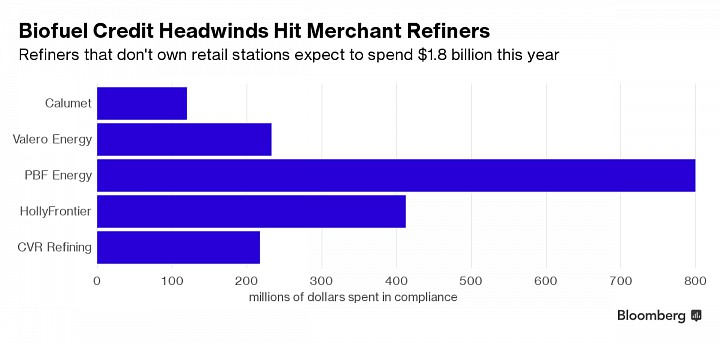 A Renewable Identification Number, or RIN, is created along with each gallon of ethanol or biodiesel that's produced. Refiners and importers need to meet a biofuel quota set by the government, either through blending fuel with ethanol or buying RINs. Companies that don't operate retail gasoline stations are feeling a growing financial burden from the rising costs, as they are unable to generate the credits by blending biofuels with the petroleum-based fuels they produce.
Prices for 2016 ethanol credits rose to 97.75 cents July 13, according to data from Progressive Fuels Ltd. compiled by Bloomberg, and were pegged at 91.25 cents Wednesday. The credits last rose this high in 2013, when government quotas...
More