Expedia, Inc. (EXPE) just released its second quarter fiscal 2017 financial results, posting earnings of $0.66 per share and revenues of $2.6 billion. Currently, EXPE is a Zacks Rank #2 (BUY) and is up 3.07% to $158.99 per share in trading shortly after its earnings report was released.
Expedia:
Beat earnings estimates. The company posted earnings of $0.66 (excluding 30 cents for non-recurring items) per share, beating our Zacks Consensus Estimate of $0.60 per share.
Beat revenue estimates. The company saw revenue figures of $2.6 billion with 18% year-over-year growth, defeating our Zacks consensus estimate of $2.54 billion.
As a percentage of total worldwide revenue in the second quarter of 2017, lodging accounted for 67%, advertising and media accounted for 12%, air accounted for 8%, and all other revenues accounted for the remaining 13%.
Lodging revenue, which includes hotel and HomeAway revenue, increased 16% in the second quarter of 2017. The segment was lifted by 21% increase in room nights stayed, driven by growth in Expedia, Hotels.com, EAN and HomeAway, partially offset by a 4% decrease in revenue per room night.
Air revenue increased 6% in the second quarter of 2017 on a 4% increase in revenue per ticket, along with a 2% increase in air tickets sold.
Trivago continued to focus on topline growth, witnessing an immense revenue increase across all regions, leading to year-over-year revenue growth this quarter of 64%. Also, Trivago pursued further expansion within its product portfolio, now comparing over 1.8 million hotels with rates from over 180 booking sites and 230 hotel chains.
HomeAway now requires all new or renewed listings to be available to travelers for online booking. Thus, HomeAway now holds nearly 1.5 million online bookable listings on its platform.
Here's a graph that looks at EXPE's Price, Consensus and EPS Surprise:
Expedia, Inc. Price, Consensus and EPS Surprise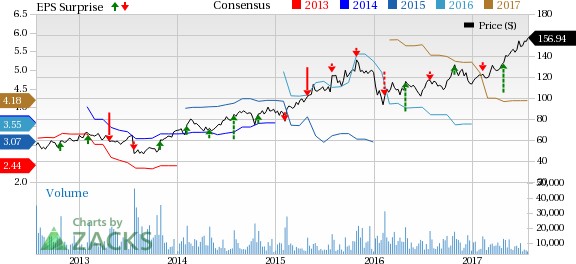 Expedia, Inc. Price, Consensus and EPS Surprise | Expedia, Inc. Quote
Expedia, Inc. is one of the world's leading travel services companies. The company provides wholesale travel to offline retail travel agents. Expedia, Inc.'s main businesses and brands include: Expedia.com, Hotels.com, Hotwire, Expedia Corporate Travel, Trip Advisor and Classic Custom Vacations
Check back later for our full analysis on EXPE's earnings report!
More Stock News: Tech Opportunity Worth $386 Billion in 2017
From driverless cars to artificial intelligence, we've seen an unsurpassed growth of high-tech products in recent months. Yesterday's science-fiction is becoming today's reality. Despite all the innovation, there is a single component no tech company can survive without. Demand for this critical device will reach $387 billion this year alone, and it's likely to grow even faster in the future.
Zacks has released a brand-new Special Report to help you take advantage of this exciting investment opportunity. Most importantly, it reveals 4 stocks with massive profit potential. See these stocks now>>
Want the latest recommendations from Zacks Investment Research? Today, you can download 7 Best Stocks for the Next 30 Days.
Click to get this free report
Expedia, Inc. (EXPE): Free Stock Analysis Report
To read this article on Zacks.com click here.
Zacks Investment Research