Deutsche Bank AG DB is scheduled to report second-quarter 2017 results on Jul 27.

In the last quarter, the German banking giant reported net income, driven by cost management and reduction in provisions. However, lower revenues were an undermining factor.

During the to-be-reported quarter, Deutsche Bank received approval of its shareholders for raising capital in the years to come. They authorized the bank to raise about $0.6 billion on or before Apr 30, 2022, in the form of new shares against cash payments. This followed successful completion of the issuance of new shares worth €8 billion ($8.6 billion) at €11.65 per share in Apr 2017.

Notably, for the three-month period ended Jun 30, 2017, Deutsche Bank gained around 3.7% on the NYSE, reflecting investors' optimism with expected increase in interest rates and economic growth. This compared favorably with the 3.1% rally of the industry it belongs to.



Will the upcoming earnings release further push Deutsche Bank stock higher? It depends largely on whether the company is able to report profitability this earnings season. Let's see which factors might have influenced the earnings report this time around.

Factors to Influence Q2 Results

Profitability of Deutsche Bank might improve on expectations of accelerated economic growth and likely increase in interest rates. Further, the capital raising initiatives will enable the bank to meet regulatory requirements, enhance its competitiveness, as well as aid in meeting investment targets across core businesses.

Also, the bank's revenue challenges should ease to some extent as it is expediting on a series of additional actions and new financial targets.

During the second quarter, trading environment was disappointing as markets experienced low volatility due to several factors. The bank's revenues are likely to face fixed-income trading slump. Moreover, trading in equities is expected to witness a downtrend due to decreased client activities.

Global investment banking fees were slightly down on a year-over-year basis in second-quarter 2017. Per the Thomson Reuters data, the total deal value of announced M&As across the world fell during the quarter. Debt underwriting was soft as well, while equity underwriting seems to have improved.

Though Deutsche Bank remains focused on expense management, it has been embroiled in several lawsuits and investigations. As a result, some additional reserves for litigation expenses might have been sidelined, which could hurt the bottom line to some extent. In addition, the quarterly results are anticipated to display the impact of several ongoing restructuring measures. Restructuring and severance charges, as such, might remain high.

Deutsche Bank AG Price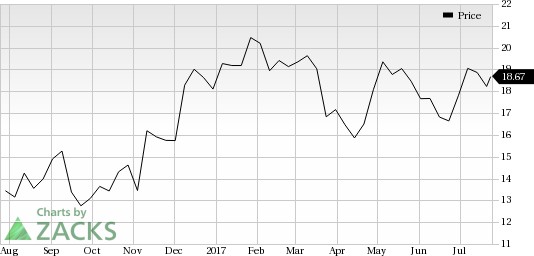 Currently, Deutsche Bank currently carries a Zacks Rank #2 (Buy). You can see the complete list of today's Zacks #1 Rank (Strong Buy) stocks here.

Among other foreign banks, Mitsubishi UFJ Financial Group, Inc. (MTU), Itau Unibanco Holding S.A. (ITUB) and The Royal Bank of Scotland Group plc (RBS) are scheduled to report results on Aug 1, Jul 31 and Aug 4, respectively.

More Stock News: Tech Opportunity Worth $386 Billion in 2017

From driverless cars to artificial intelligence, we've seen an unsurpassed growth of high-tech products in recent months. Yesterday's science-fiction is becoming today's reality. Despite all the innovation, there is a single component no tech company can survive without. Demand for this critical device will reach $387 billion this year alone, and it's likely to grow even faster in the future.

Zacks has released a brand-new Special Report to help you take advantage of this exciting investment opportunity. Most importantly, it reveals 4 stocks with massive profit potential. See these stocks now>>
Want the latest recommendations from Zacks Investment Research? Today, you can download 7 Best Stocks for the Next 30 Days.
Click to get this free report
Deutsche Bank AG (DB): Free Stock Analysis Report
To read this article on Zacks.com click here.
Zacks Investment Research