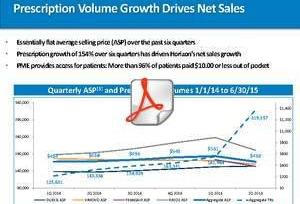 DUBLIN, IRELAND--(Marketwired - Oct 22, 2015) - Horizon Pharma plc (NASDAQ: HZNP), a biopharmaceutical company focused on improving patients' lives by identifying, developing, acquiring and commercializing differentiated and accessible medicines that address unmet medical needs, today provided the following statement to correct misinformation in the marketplace:
Horizon takes seriously its responsibility to ensure patients have access to our medicines. Horizon enhances patients' access through several programs, one of which ensures that patients have a low out-of-pocket cost for Horizon medicines. This has resulted in 96 percent of patients filling prescriptions for Horizon's medicines during the first half of 2015 realizing co-pay amounts of $10 or less.


Horizon's average selling price (ASP) of DUEXIS® (ibuprofen/famotidine), VIMOVO® (naproxen/esomeprazole), PENNSAID® (diclofenac sodium topical solution) 2% and RAYOS (prednisone) averaged $462 in the second quarter of 2015, which is unchanged since the first quarter of 2014. Over this same time period, prescriptions of these products increased 154 percent. [See Figure 1] We believe this strong prescription growth is the result of 1) the clear clinical benefits these products provide and 2) our ability to provide access to important medicines in today's healthcare environment.



Clinical Benefits: Horizon's patented medicines address important unmet needs for patients. For example, both DUEXIS and VIMOVO, which are patented, novel formulations, significantly reduce NSAID-induced ulcers. Every year there are 107,000 hospitalizations and 16,500 deaths related to GI toxicity, including GI bleeding that result from patients taking unprotected NSAIDs. DUEXIS and VIMOVO were not specifically studied to reduce hospitalizations or ulcer complications, however the FDA has recognized that gastrointestinal ulcers are associated with more significant GI toxicity. The number of deaths related to NSAID-induced toxicity is more than that associated with opioid overdoses and certain forms of cancer. By providing the benefits of an NSAID and an agent to reduce NSAID-caused GI ulcers in a single pill, patient compliance is significantly improved. In fact, data indicates that less than 25 percent of physicians co-prescribe an NSAID and an agent to reduce the ulcers they cause. In the few patients that are co-prescribed, data indicates that less than 40 percent of patients are still taking the GI protective after three prescriptions. [See Figures 2 and 3].


Eliminating the burden of access: A majority of all insurers, large and small, cover Horizon medicines in some form. The healthcare system is highly complex and through its access program, Horizon ensures that physicians can prescribe its medicines with a minimal level of administrative steps so that patients can...
More