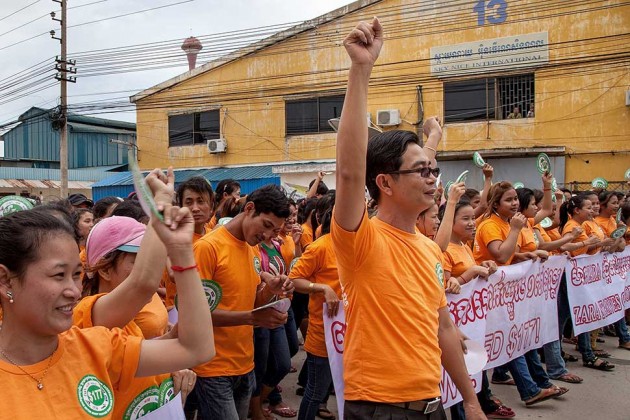 Photograph by Omar Havana/Getty Images
Garment workers shouting slogans in Phnom Penh's Canadia Industrial Park to demand an increase in their minimum salary
Thousands of Cambodian garment workers joined demonstrations across Phnom Penh last week calling for an increase in the minimum monthly wage.
At the Canadia Industrial Park, where a police crackdown on striking workers left several dead in early January, at least a thousand workers joined the renewed round of protests, according to Phnom Penh-based human rights group Licadho. The new campaign, organized by allied trade unions, calls for a $177 monthly wage, a steep increase from the current $100 wage. This time, however, the workers aren't striking: last Wednesday's demonstrations were held during workers' lunch break.
Representatives from eight major fashion brands that source clothing manufacturing from Cambodia—including Sweden's H&M (HMB:SS) and the U.K.'s New Look—submitted a co-signed letter (PDF) the following day to Cambodian Deputy Prime Minister Keat Chhon pledging to pay higher prices for goods from Cambodia in order to ensure livable worker wages, social stability, and uninterrupted and efficient production.

Government representatives and union officials are expected to meet in October to discuss minimum wage laws for the garment industry, which is now Cambodia's single-largest private employer. Garment manufacturing accounts for more than a third of Cambodia's annual gross domestic product—$5 billion, of $14 billion overall."Workers in all production countries have the right to a fair living wage," the letter read. "Our purchasing practices will enable the payment of a fair living wage and increased wages will be reflected in our [estimated] prices." The letter did not mention specific figures.