DaVita HealthCare Partners Inc. DVA is expected to report third-quarter fiscal 2017 results on Nov 7, after market close.
Last quarter, the company delivered earnings of 92 cents per share, which exceeded the Zacks Consensus Estimate by a couple of cents. Over the last four quarters, it delivered an average earnings beat of 1.83%.
Let's see how things are shaping up prior to this announcement.
Factors at Play
DaVita is a leading provider of dialysis services to patients suffering from chronic kidney failure. The company's Kidney Care business is expected to perform well in the quarter under review owing to its continuous investments in capital-efficient technologies.
Steady overseas expansion through strategic alliances and acquisition of dialysis centers has played a key role in boosting the company's growth. We believe that DaVita's constant efforts to upgrade its quality of services, global expansion and active acquisitions are key positives.
DaVita HealthCare Partners Inc. Price and EPS Surprise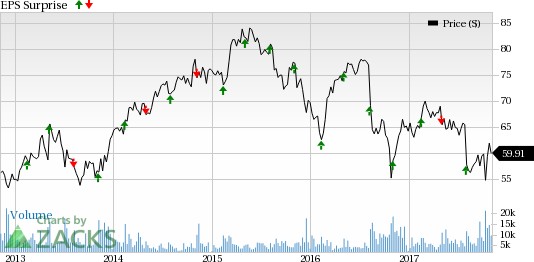 DaVita HealthCare Partners Inc. Price and EPS Surprise | DaVita HealthCare Partners Inc. Quote
Operating cash flow is expected to remain strong in the quarter on the back of an improved performance of the Kidney Care business as well as the capitated care business. Overall, management projected DaVita's operating income for fiscal 2017 in the range of $1.675-$1.775 billion. Of this, the company expects operating income of $1.565-$1.625 billion for Kidney Care business. Operating cash flow projection for fiscal 2017 is expected at $1.750-$1.950 billion.
On the flip side, the company expects to incur significant operating losses within its International business due to lower-than-anticipated clinic acquisitions and slower operating ramp of acquired clinics. This should get reflected in DaVita's third-quarter performance.
Additionally, the issue that may impact the company's bottom line in the to-be-reported quarter is the ongoing cost inflation that has continued to outpace the rate increases the company received from its payers. Also, uncertainties associated with the possibilities of a repeal of the Affordable Care Act under President Trump add to the company's concerns.
Coming to estimate revisions, the stock has seen the Zacks Consensus Estimate for current-quarter earnings being stable at 94 cents per share over the last three months.
Earnings Whispers
Despite solid prospects, our quantitative model does not conclusively point to an earnings beat for the stock this quarter. That is because a stock needs to have a positive Earnings ESP and a favorable Zacks Rank #1 (Strong Buy), 2 (Buy) or 3 (Hold) for this to happen. However, this is not the case here as you will see below.
Zacks ESP: DaVita has an Earnings ESP of +0.38%. This is because the Most Accurate estimate of 95 cents is pegged above the Zacks Consensus Estimate at 94 cents. You can uncover the best stocks to buy or sell before they're reported with our Earnings ESP Filter.
Zacks Rank: DaVita carries a Zacks Rank #4 (Sell). We caution against stocks with a Zacks Ranks of 4 and 5 (Strong Sell) going into the earnings announcement, especially when the company is seeing negative estimate revision.
Stocks to Consider
Here are three companies worth considering as per our proven model, these have the right combination of elements to beat on earnings this quarter:
Amedisys, Inc. AMED has an Earnings ESP of +0.62% and a Zacks Rank #2. You can see the complete list of today's Zacks #1 Rank stocks here.
Myriad Genetics, Inc. MYGN has an Earnings ESP of +1.61% and a Zacks Rank of 2.
Charles River Laboratories International, Inc. CRL is Zacks #2 Ranked and has an Earnings ESP of +0.45%.
Wall Street's Next Amazon
Zacks EVP Kevin Matras believes this familiar stock has only just begun its climb to become one of the greatest investments of all time. It's a once-in-a-generation opportunity to invest in pure genius.

Click for details >>
Want the latest recommendations from Zacks Investment Research? Today, you can download 7 Best Stocks for the Next 30 Days.
Click to get this free report
Myriad Genetics, Inc. (MYGN): Free Stock Analysis Report
Amedisys Inc (AMED): Free Stock Analysis Report
DaVita HealthCare Partners Inc. (DVA): Free Stock Analysis Report
Charles River Laboratories International, Inc. (CRL): Free Stock Analysis Report
To read this article on Zacks.com click here.
Zacks Investment Research