Tractor Supply Company TSCO seems to be in a state of doldrums for quite some time now, primarily due to a challenging economic backdrop at the agricultural and energy sectors. Also, the company is facing other headwinds, which are quite well reflected in its share price performance.

Shares of this Zacks Rank #4 (Sell) company have significantly underperformed both the Zacks categorized Retail – Miscellaneous/Diversified industry and the broader sector. The stock plunged over 46%, wider than the industry's decline of 16% in the last one year. In fact, the industry is currently placed at bottom 22% of the Zacks Classified industries (200 out of 256). In contrast, the Zacks categorized Retail-Wholesale sector gained 11.6%.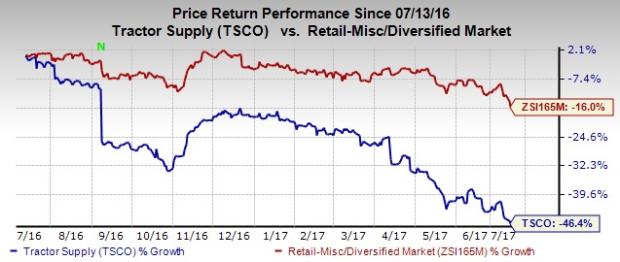 Further, we note that estimates have moved south in the last one month, with three downward revisions for both the second quarter and 2017. In fact, the Zacks Consensus Estimate that has declined by a penny for both the to-be-reported quarter and 2017 is currently pegged at $1.28 and $3.41, respectively. To add up to the gloomy picture, the stock exhibits a Growth Score of "D".

Factors Hurting the Stock

Soft Comps

Tractor Supply is witnessing lower comparable store sales (comps) owing to a fall in comparable transaction count and average ticket. Evidently, comps declined 2.2% in the first quarter following a 3.1% rise in the final quarter of 2016. The fall in comps is attributable to a 1.4% and 0.9% dip in comparable transaction count and average ticket, respectively. Further, comps were primarily hurt by soft seasonal merchandise sales, along with deflationary pressure. In fact, comps slumped 0.6% and 0.5% in the third and second quarters of 2016, respectively.

Other Potent Concerns

It is to be noted that Tractor Supply's business is highly seasonal in nature, with sales and profits soaring in the spring and winter selling seasons on the back of seasonal demand for its merchandise offering. As a result, unseasonable weather significantly dents the company's performance and hurt its margins. Moreover, volatility in raw material prices, higher promotional activity and stiff competition further add to the woes.

Macroeconomic Challenges

A challenging economic backdrop has been threatening the agricultural and energy sectors, which has been bearing the brunt of cautious consumer spending. Unfortunately, Tractor Supply has fallen prey to these headwinds, which weigh upon its financial performance.

Revival Efforts

However, management at Tractor Supply is not sitting idle and taking initiatives instead, to return to its growth trajectory. We believe that Tractor Supply's growth endeavors such as expansion of store base and incorporation of technological advancements will help induce traffic and in turn, drive the top line. Evidently, the company remains on track to attain its long-term domestic store growth target of 2,500 stores.

Going forward, Tractor Supply expects that given the seasonal nature of its business, it should rather be measured by its half-yearly than the quarterly performance. The company's upcoming merchandise strategies and constant implementation of its cross-network consumer-centric growth plans further reflect its spring season prospects.

Like to Know Hot Stocks in the Retail Space, Check These

If you are interested in the retail space you can consider better-ranked stocks such as Barnes & Noble, Inc. BKS, Five Below, Inc. FIVE and Ulta Beauty, Inc. ULTA. All these three stocks carry a Zacks Rank #2 (Buy). You can see the complete list of today's Zacks #1 Rank (Strong Buy) stocks here.

Barnes & Noble has a long-term earnings growth rate of 10%.

Five Below, with a long-term earnings growth rate of 28.5% has delivered an average positive earnings surprise of 6.3% in the trailing four quarters.

Ulta Beauty has pulled off an average positive earnings surprise of 4.2% in the trailing four quarters and has a long-term earnings growth rate of 20.4%.

More Stock News: 8 Companies Verge on Apple-Like Run

Did you miss Apple's 9X stock explosion after they launched their iPhone in 2007? Now 2017 looks to be a pivotal year to get in on another emerging technology expected to rock the market. Demand could soar from almost nothing to $42 billion by 2025. Reports suggest it could save 10 million lives per decade which could in turn save $200 billion in U.S. healthcare costs.

A bonus Zacks Special Report names this breakthrough and the 8 best stocks to exploit it. Like Apple in 2007, these companies are already strong and coiling for potential mega-gains. Click to see them right now >>
Want the latest recommendations from Zacks Investment Research? Today, you can download 7 Best Stocks for the Next 30 Days.
Click to get this free report
Tractor Supply Company (TSCO): Free Stock Analysis Report
Barnes & Noble, Inc. (BKS): Free Stock Analysis Report
Ulta Beauty Inc. (ULTA): Free Stock Analysis Report
Five Below, Inc. (FIVE): Free Stock Analysis Report
To read this article on Zacks.com click here.
Zacks Investment Research