Over the past few months I have been a fan of the macro data coming out of the UK as it has generally surprised on the upside - especially the PMI data for manufacturing and services. Being some of the timeliest reports, they are a good way to get a read on the economy.
We now have August's data on manufacturing and it was a very strong report.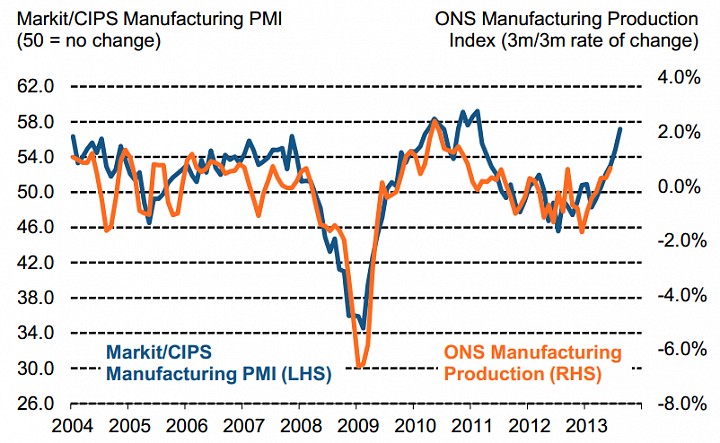 The headline reading of 57.2 was the best in 2 and a half years.
Output and new orders were at their strongest in 20 years!
On a negative note, input prices rose sharply.
The sector signaled job creation for the 4th month running. 
Here's some comments from Rob Dobson, the Senior Economist at Markit (which compiles the report):
"The sector therefore continues to build on the solid 0.7% expansion registered during the second quarter, and growth could easily break the 1.0% mark in the third quarter. Manufacturing is clearly making a strong positive contribution to the economy, providing welcome evidence that the long-awaited rebalancing of the economy towards manufacturing and exports is at last starting to take place now that our export markets are recovering."
The bottom line here is that while the recovery in the UK may be modest, and the BOE remains dovish in its general intention, I don't believe another burst of QE is coming from them anytime soon. This tells me that, other factors held equal, I like the GBP because of its macro picture. It's why I have been bearish the
EUR/GBP over the last few weeks and will continue to look for opportunities to take advantage of the positive UK macro surprises when trading that pair.

- Nick